***Looking for a gift to blow your puppy's mind? Spoil them with a BarkBox! Every month BarkBox delivers 2 original toys, designed in-house, 2 full bags of all-natural treats, and a chew. Sign up here and receive a free extra toy every month. <– This deal is worth up to $120 in value if you sign up for a 12-month subscription! 🙂
Bringing a new puppy home is one of the most exciting times in any new pet parents' life. And if there's one thing a new pet parent needs during this exciting time, it's a whole 'lotta stuff.
New puppies need all sorts of things (toys and chews and treats, oh my!) as they settle into their new homes. And the best way to get them the things they need? With gifts, of course!
But what, exactly, should you get your (or your loved one's) new puppy? What do they need—and what will they want?
In other words, what are the best gifts for puppies?
A Perfectly Puppy-Sized Harness…
Your new puppy is going to want to do plenty of exploring. But you can't take them out on nice, long walks without the proper equipment—and that starts with a harness.
Harnesses are great because they allow your dog to walk freely without any of the pulling (or potentially choking) they might experience with a more traditional collar. Just make sure you choose the right size! Most harnesses have a size chart that will tell you the proper height and weight for each of their sizes—so measure your puppy, check the chart, and buy the harness size that's going to be the best fit.
…And A Perfectly Puppy-Sized Leash
Your puppy needs a harness in order to go for walks—but they also need a puppy leash! While you're training your puppy to walk on a leash, it's best to go for a shorter, lightweight leash (retractable leashes will give them too many opportunities to pull and wander!).
You want to reward your puppy for good behavior, success in training, and—let's be real—just for being plain, old adorable. And the best reward for your puppy? Delicious treats, of course!
Gifting your puppy some yummy treats is a surefire way to their heart (and tummy!). Look for healthy, grain-free dog treats that pack a one-two punch of nutrition and flavor.
Just like babies, puppies go through a teething process—and it's just as uncomfortable for them as it is for human babies! Teething toys (like Super Chewer Dog Toys) are a great way to keep your puppy—and their gums—comfortable as they go through the process of losing their puppy teeth and making room for their adult teeth.
Training Books!
One of the best gifts for puppies? Proper training. Training your pup ensures they know what kind of behavior you expect from them—and will keep them happy, healthy, and safe as they continue to grow into adult dogs.
If you're not well-versed in the art of dog training, training books can help you get a handle on how to properly train your dog. So while, technically speaking, the books are a gift for you, the training your puppy will get as a result is definitely a gift for them!
A Collar!
Harnesses are a great fit for puppies when they're out walking. But those harnesses can feel bulky and uncomfortable when they're relaxing at home or playing in the backyard or dog park. And that's where a more traditional collar comes in!
Collars come in all shapes, sizes, and colors (including the bow-tie variety!). Just make sure to choose a collar that offers your puppy a comfortable fit!
A Name Tag!
If your puppy ever wanders away or gets lost, you want whoever finds them to be able to get in touch with you and return your puppy, stat. And the best way to do that? A name tag.
A name tag is your opportunity to attach any important information—like your puppy's name, and your contact information—straight to their collar. Hopefully, your puppy will never get lost and no one will ever have to us it—but just in case, you want that information to be on your puppy at all times.
A Winter Jacket!
If you live in a colder climate, you want to make sure your puppy stays nice and warm in the winter months—with a winter jacket of course!
Winter jackets are a must if your puppy is going to be outside in cold temperatures, snow, or if they have short hair (like a chihuahua). And not only will a winter jacket keep your pup nice and toasty, it will also make them look seriously stylish—another reason it makes one of the best gifts for puppies.
Just like babies, puppies tend to sleep quite a bit. And they're going to need a place to catch those Zzz's—which is why a dog bed is such a great gift!
The key to finding a good dog bed is finding something comfortable and size appropriate. You want your dog to feel safe, so make sure the dog bed has room for them to stretch out—but not so much room that they get lost in the fabric.
…And A Cozy, Puppy-Sized Crate!
Dogs are den animals—so nothing will make a better gift than a puppy-sized crates.
When used appropriately, the crate can become your puppy's "safe place" within your home. It's a place they can go to relax, recharge, and enjoy some alone time. Giving them that crate space is the perfect gift for your new puppy—and because it can be a helpful tool for house training, it makes a great gift for you, too.
A Microchip!
The best gift you can give your puppy is safety. And if you want to keep your puppy safe and protected, you need to microchip them.
Microchips are a must. If you and your dog get separated (or if they get lost without their collar), microchips are a fast, easy way for shelters, rescues, and vets to make sure your puppy gets home safely. Talk to your vet and get your new puppy microchipped ASAP.
A Playpen!
You want to give your dog plenty of space to play. But you also don't want to give them free rein over your home.
A dog playpen is a great gift for a puppy because it gives them (and you!) plenty of space to spread out and play—but it also protects the rest of your home from puppy-related accidents.
A Dog Car Seat Or Car Seat Cover
Your new puppy will love going places with you—and, depending on where you're going, that might mean taking a trip in the car.
Give your puppy the gift of car safety (and style!) with a dog car seat. The right dog car seat will keep your dog comfortable and secure on four wheels, whether you're headed to the vet, the dog park, or on a long, family road trip.
We don't have to tell you—puppies have a LOT of energy. And if you don't find a way to channel that energy, chances are, your puppy is going to channel it right into some kind of mischief.
That's why dog toys make such a great gift. Fetch Toys are a great way to get your puppy outside to play—and work of some of that puppy energy. Plus, it's fun for you AND the pup!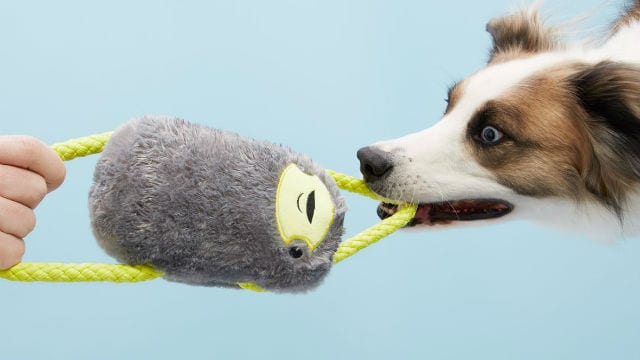 If fetch isn't your puppy's game (or if it's just not the right weather to play outside), Tug Toys are a great alternative to help them work off that puppy energy. Puppies love
If you want to give your puppy a gift that keeps on giving (and let's be real—what's better than that?), get them a subscription to BarkBox! With BarkBox, you'll get a carefully curated selection of toys, treats, and chews delivered to your door each month that are just the right size for your new dog. BarkBox is, hands down, one of the best gifts for puppies out there!
If your puppy has a serious set of chompers, you'll definitely want to gift them the Super Chewer BarkBox. It's just like BarkBox—but each delivery is full of ultra-durable toys, treats, and chews to withstand even the strongest set of puppy teeth.
Spoil Your Dog With The Best Gifts For Puppies
When you're shopping for your puppy, it's the thought that counts. But now that you know the best gifts for puppies, you can rest easy knowing whatever you gift them, they'll be head over paws for!
Looking For More Articles About Puppies?
Puppy 101: How Do I Stop My Puppy From Biting?
What Is A Puppy Subscription Box?
17 Essentials For New Pup Parents To Keep Your Dog Smiling
How Do I Find A Trainer For My Dog?
Are Board And Train Programs Right For My Dog?