***Looking for a way to get a bunch of toys for your pup on a regular basis, and not just the rope kind? Try BarkBox! Every month BarkBox delivers 2 original toys, designed in-house, 2 full bags of all-natural treats, and a chew. Sign up here and receive a free extra toy every month. <– This deal is worth up to $120 in value if you sign up for a 12-month subscription! 🙂
Long or short, thick or thin, multi-colored or not – rope toys are great for dogs! This classic dog toy is a staple in the doggy toy box. It allows your pal to fetch, chew, and thrash. Your canine companion can also test their strength in an epic match of tug-of-war!
Inexpensive rope toys help your tiny pup satisfy their chewing obsession when they hit the teething stage. It will also help save your furniture and shoes. Another tip for the tiny ones is to always have more than one on hand as a back up! As with all toys, if the strands come loose or pieces come apart, take the toy away from your pooch. Human supervision is always necessary during play time.
If you don't feel like shopping around for the perfect size for your dog, that's okay. These toys are so easy to make that you can DIY one yourself. Re-purpose your old shirts by turning them into a toy for your favorite pup! Learning How To Make Your Own Dog Toy Out of T-Shirts is simple and takes less than 10 minutes!
There are special rope toys for older pups made with textured material added to the rope to secretly help take care of plaque build-up as they gnaw away on the toy. They think they're just playing, but you know they're also cleaning their teeth.
There are various types, sizes, and functions of rope toys available in pet stores and online. It's not always easy to find the perfect match for your special friend. So, what are the best rope toys?
Although there are tons of materials used to make fun tug toys for dogs, we suggest searching out rope toys made with t-shirt material. The t-shirt fabric is tummy safe – which means that it's easier on the digestive track in the event it's accidentally ingested. It's easier to pass than nylon or other fibrous materials used in rope toys. Don't know where to start searching for tummy safe rope toys? Don't worry, all of the work has been done for you! We've gathered 11 of the best t-shirt rope toys to make sure your pup is healthy and happy during playtime!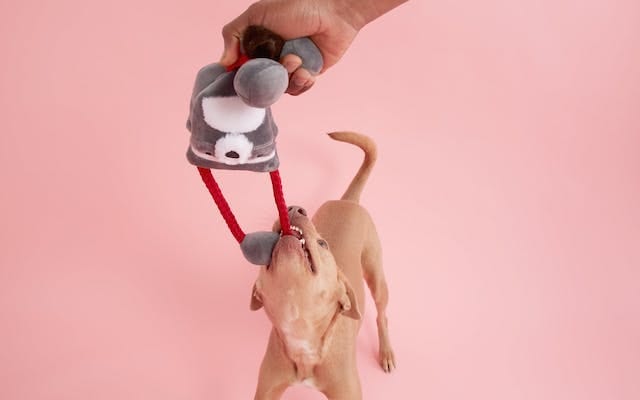 Filled with fluff and ready for fun! Tugimals have plush bodies and tummy safe t-shirt rope for a fun game of tug-of-war. The soft plush bodies also make the solo thrash session a little less aggressive. With a wide range of cuties, your pup will surely find their new best friend.
Brewser's t-shirt rope toys are box braided for more grip options for your pup's teeth. This handmade toy can also be personalized with your choice of colors for the special fur friend in your life!
The Pretzel Rope toy has everything your pup craves! The pretzel is filled with t-shirt rope, squeakers, and ballistic nylon material. You can play tug with your pup or they can squeak away on their own – either way it's the most fun your pooch will have with a pretzel!
FriskyPawsNClawShop hand makes these colorful rope toys from recycled t-shirts. They can even customize your pal's toy with specific lengths.
The Single Braid Ball toy is made from completely recycled materials. These toys are eco-friendly and fun. T-shirts and tennis balls that have been recycled are given new life as a toy to entertain your chewsy pup!
Another twist on a rope to is the Shredible Arrangement. Not only is the stem made from the tummy-safe t-shirt rope, but the plushy strawberry has a hidden toy inside for those who love to destroy! If your pup likes to crush the plush, there's a super fun spiky ball core attached to the rope, so your pal will still have a great toy to play with later!
The All Glowing Eye it a tug toy, thrash toy, fetch toy, and a glow-in-the-dark toy rolled into one! Not only is the tummy safe t-shirt rope toy perfect for tug-of-war, but also for the ultimate game of fetch at night.
These tug toys are handmade, can have a single loop or a double loop, and can also be customize with your own specific colors! PlayPawsTeeToys also give you the option of ordering a t-shirt rope toy to donate to a rescue pup. The ropes are inexpensive, so you can grab one for your dog and donate another!
It's a party! The Heli-Yum Balloons are soft squeaky tug toys. This multi-part rope toy set is ideal for doggy shindigs and can be used as party favors when separated. The thin twisted ropes are easy for smaller pups to grip in their mouths and go to town.
The Bow Wow Pals T-shirt Rope toy is much like the classic rope toy, except it's made with jersey shirt material, which is a bit stretchier than the original t-shirt rope toys. Easy to grip, but soft in the mouth, this tug toy is up for the strength challenge!
Mix up the textures with the Dogzilla Tee Tug Toy. The bumpy texture and rope helps stimulate gums to promote dental health, and the toy is made to withstand tough chewers. The toy comes in small, medium, and large, so there's one to fit all sizes of pups!
Looking For More Posts Like This?
How To Make Dog Toys Out Of T-Shirts
What Are Dog Toys Stuffed With?
What Are The Most Durable Dog Toys?