Our small pups have a ton of love to give, and what better way to return the favor than with monthly goodies? When searching for the perfect box for your furry friend, humans will want to ensure they'll receive safety-approved toys and treats that their dogs enjoy for months to come!
Here are 5 great options for monthly boxes for small dogs:
BarkBox (Because, Duh!)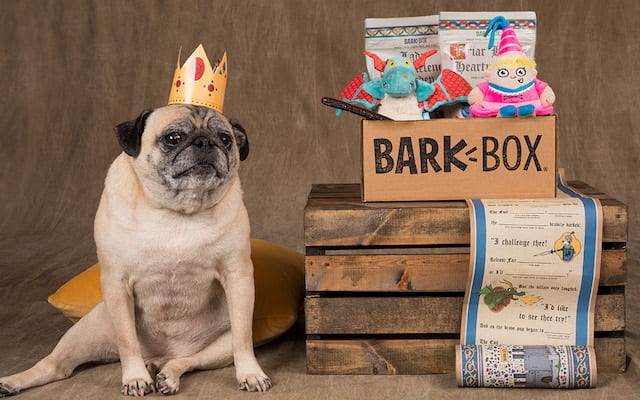 When it comes to monthly variety that the entire pack can enjoy, BarkBox is in a league of its own. From the classic Poo York City-themed box to all the holiday boxes (ho-ho-hooray!), small pups will be able to enjoy miniature flavored chews, pop open a bag of treats and fix their paws on pint-sized toys each month. When ordering, just make sure to select the 'Small & Cute' option for pups of any breed weighing 0-20 pounds.
Price: $29 for 1 month, $25 for 6 months, or $20 for 12 months.
The Super Chewer version of BarkBox is very similar to the one above (fun monthly themes, original products, and so on), but with the added benefit of having toys that are virtually indestructible. While most small dogs – your Yorkshire Terriers and Chihuahuas, for example – prefer something softer to play with, there are definitely those surprising petite pups who want a challenge for their teeth. THIS is the box for them.
Cost: $39 for 1 month, $33 for 3 months, $30 for 6 months, $28 for 12 months.
For a dainty, classy dog, The Dapper Dog has dazzling items that are fitting for the most pampered of  pooches. Like BarkBox, Dapper Dog has fun monthly themes, but the small-medium box boasts a bandana with pizzaz, too.
Price: $22-$35.
All paws on deck! For your tiny hero, here's a subscription to the rescue! Rescue Box spoils your small pup all while paying it forward to animal shelters throughout the nation! Partnered with GreaterGood.org, subscriptions provide at least 2 vaccines and 5 pounds of food to pups in need, and the love keeps growing! Your own pup 0-20 pounds can have their own personal duration of boxes with a brief description of what they'll be donating. For example, a 12 month subscription will vaccinate 24 shelter pets and provide 60 pounds of food. How's that for spreading the ruv?
Price: $24.95-$34.95.
Voilà! Your wish will come true with Surprise My Pet, with boxes going as low as 0-10 pounds in your pup's weight! Subscriptions feature 5-7 items in small treats and handpicked toys, along with the possibility of your local pet-friendly organizations to receive charitable donations! While your small pup will surely be treated each month, you'll also keep the paw-sitive vibes going!
Price: $26-$30.