When we think of medium dogs, the first thing that comes to mind? The tale of Goldilocks and the Three Bears. That's because medium dogs are not too big, not too small…they're just right.
If you're the proud owner of a medium-sized dog, you want to stock your home with plenty of toys to keep them entertained. But different dogs require different toys. The toys that are going to work for a Great Dane or a Yorkie probably won't be the right fit for your medium pup.
So what, exactly, are the best toys for medium dogs?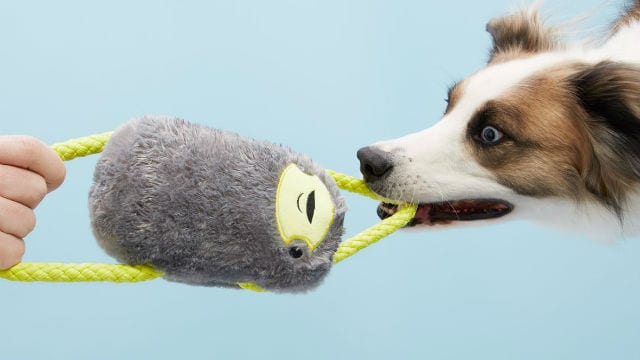 All dogs love to play tug of war—including medium-sized dogs (you'd be surprised how strong they can be!). That's why Tug Toys are one of the best toys for medium dogs. It gives your dog a change to work off excess energy, creates an opportunity for interactive play with your pup, and will also prevent your dog from tugging on other, less-ideal things (like the sleeve of your shirt!).
Tug Toys typically have two sides—one with a rope for your pup to chomp on, the other with a rope (or handle) for you to grab onto. Once you've got a good grip, your medium-sized dog can tug away—and impress you with how strong they are (even though they're not the biggest pups in the bunch!).
Medium dogs like to run around just as much as the big guys at the dog park. Which is why Fetch Toys are such a great fit.
Toys like the "Orbee Globe Ball" are a great way for your dog to get their exercise and entertainment in one place. And as an added bonus—once you've tired your pup out with a few games of fetch at the park, they're much less likely to get into trouble when you get home.
Medium dogs might fall somewhere in the middle when it comes to size, but not when it comes to heart. And a great way to warm that big puppy heart? Plush Toys.
The key to choosing the right plush toy for your medium dog is size. You want to make sure it's large enough that your dog doesn't tear it to shreds in five minutes (again, medium-sized dogs can be deceptively strong!).
If you want to up the fun factor, try a Spiky Core Ball Toy. These plush toys – like "Monsieur Acorn" – have a squeaky, spiky (and durable!) ball hidden inside their plush. Once your dog rips apart the Plush Toy (which they probably will eventually!), they have a whole new toy waiting for them to play with. It's like two toys in one!
If a medium-sized dog gets bored, they can still cause big-time trouble. That's why you need to keep their brain engaged. And one of the best ways to keep that brain engaged? Thinker Toys.
Thinker Toys like the "Dog Brick Puzzle" or the "Dog Casino Puzzle" are pretty much like puzzles for your pup. They have treats hidden inside the toy—and if your dog wants to get to the treat, they need to figure out how to work through the puzzle.
Thinker Toys come in all shapes, sizes, and materials (like plastic and wood)—but as long as they present a challenge, they'll keep your dog happy and entertained for hours at a time.
Dogs love to chew. And your medium dog is probably able to chew through most of their toys in a big way! Super Chewer Toys like "Max the Marching Penguin" or a Benebone are extra durable and can withstand even the strongest chompers—so they can withstand your medium-sized dog's teeth, no problem.
Also, got a medium-sized puppy? A Super Chewer Toy should be at the top of your list—these toys are an excellent tool for teething!
Not sure what toys your medium-sized dog will go crazy for? Then why not give BarkBox a try? With BarkBox, you'll get a carefully curated selection of top-quality toys, treats, and a chew for your pup (two of each!) delivered straight to your door every month. And the best part? Every delivery is tailored to your dog's size, so you'll only get the best for your medium-sized pal.Sign up here and receive a free extra toy every month. <– This deal is worth up to $120 in value if you sign up for a 12-month subscription! 🙂
Have some lingering questions on how to find the best toys for medium dogs? Reach out to the team at [email protected]—they're here to help!