You have a new pup and of course, you're going to need some new dog toys!
***Looking for a gift that's perfect for dogs of all ages? Try BarkBox! Every month BarkBox delivers 2 original toys, designed in-house, 2 full bags of all-natural treats, and a chew. Sign up here and receive a free extra toy every month. <– This deal is worth up to $120 in value if you sign up for a 12-month subscription! 🙂
It's the question all new dog owners ask themselves when getting their home ready for the new family member; What toys should I buy for my new dog?
All pups are different, but one thing is the same across the board. Dogs love dog toys. There's no doubt about it! Pups may vary in whether they prefer toys that squeak, bounce, rattle, or roll, but toys are almost always integral to a pup's life. Playing helps owners and pets bond, and toys encourages both parties to interact more. Dog toys should stimulate your pal physically and mentally – and it's an extra bonus if they're super cute!
There's a wide range of option in-store and online, but we're going to help narrow down the search for great toys for your new dog. Your fur friend can be a brand new puppy or a bit more mature, these are toys your pooch will love for years to come!
Toys For Puppies
They're small, adorable, and have those super sharp baby teeth. Your tiny puppy deserves to be spoiled with all the treats, toys, and cuddles in the world.
With tons of curiosity and energy, puppies need to stay stocked with toys that keep them entertained and keep them from chewing on your furniture. Fun and innovative Plush Toys like "Rattling Ricky" and "Chompin' Charlie" are small enough for the little one to play with and light enough carry around the house.
For the puppies that easily crush the plush and need a little more durability, toys covered in nylon material, like Pupping Iron Dumbbell, would be a better fit! You dog can still get their plush and squeaker fix, while getting a bit more of a challenge with the stronger material.
Toys For Adult Pooches
If your new fur friend is past the puppy stage they'll already have their playing style set. It will take some time to discover if your pup prefers fetch over tug-of-war, or puzzles over multi-part toys. Getting to know your new dog is very important and finding out how they like to play will help direct their energy into a constructively.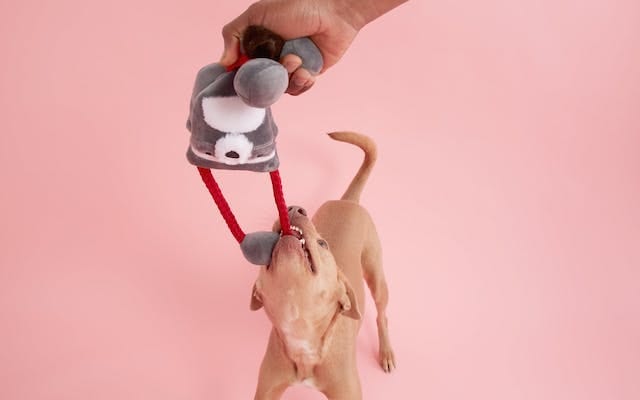 Dogs always needs to burn off some pent up energy. Tug-of-war is a test of strength and a super fun way to spend some quality time with your new pal. Tug Toys with soft and tummy-safe t-shirt rope, like "Rebellious Ruben," will make sure they'll get a comfortable grip between their teeth during your epic battle of strength.
For the larger pups who wants more than just a basic tug toy, "Shredible Arrangement" may be a better fit. The plush strawberry has various textures, crinkle leaves, and – if they are strong enough to take bite of the strawberry – a hidden spiky ball core. When your pup thinks they've killed the toy, they'll find the fun can continue with the surprise ball attached to the t-shirt tug rope!
Who doesn't love a Classic Plush Toy? They're soft, squishy, and squeaky – everything your pup will enjoy. With a variety of textures, sounds, and a fun range of squeakers to keep your pal interested, plush toys will definitely get that tail wagging. "Muy Squeaky Margarita" is overflowing with fun elements to entice your pal. The toy is covered in various textures, has a disc squeaker in the base, and the fuzzy hair around the rim of the toy. Did we mention the crinkle lime garnish? It's everything your plush lover needs in one glass.
For the dogs who love their plush toys to pieces – quite literally to pieces – "Ernesto the Fish Taco" is a fan favorite! Served with tons of fluff and a grunt squeaker wrapped in ballistic nylon material, this fishy toy gives your pal more of a challenge. Available in two sizes, you'll be able to find the right one for your new fur friend.
All the fun without the fluff! Spiky Ball Core Toys are interactive and full of sound, just without the stuffing. The "Lady Liberty Ball" and "Get it Pup" have the spiky squeaker core covered in soft material. Great for fetch, chewing, and bouncing, these toys will keep your pup going all day.
Switch it up with "Peg the Prized Pig." She's got a lot going on in that head of her. Underneath the soft pink fabric is a ball made of water bottle material filled with tummy-safe corn starch beads. Those beads make the fun rattle sound that will keep your pup coming back for more.
Most of the bigger dogs and bully breeds (pit mixes, bulldogs, and terrier mixes) make short work of soft and plushy toys. With sharp teeth, strong jaws, and natural determination, these fur babies need toys that will last through a persistent gnawing and still keep them stimulated.
Super Chewer Toys are mostly rubber and nylon, two materials that create stronger toys with different textures, toys that are great for fetch, and toys that can still squeak and dispense treats! All pups deserve variety. Benebone chews are great, but your pal may need more to keep them interested. Get them excited with toys that bounce, roll, and have moving parts.
Mostly rubber toys like "Gunter the Gorilla" bounces like a KONG toy, but is solid to the core. Gunter is fun to use during fetch and strong enough to outlast other chew toys. Textured Super Chewer toys, such as "Ilana the Iguana", are more than cute and strong toys. Ilana's ridges can fit between most teeth and doubles as a dental chew!
Toys For Senior Pups
Maybe you've adopted a senior dog! If so, good for you! Senior dogs are some of the best, most loving dogs you'll ever had. And one of the best things about them: they're pretty calm and settled into their life. That means they're not constantly zooming around and tearing things up with their teeth.
Now of course, senior dogs, just like other dogs, are all different. There's no one-size fits all when it comes to toys for them. But generally speaking, they're probably not too interested in Super Chewer or highly interactive toys.
So what's your best bet for senior dogs? Probably Plush Toys, like "Pete The Frankly Fantastic Unicorn." They're soft, they're highly cuddle-able, and they don't require an intense amount of play. Plus, they're just really, really cute and fun.
And then, of course, there's the Puzzle Toys! (AKA the Thinker Toys.) If you have a newly-adopted senior dog who's not terribly interested in lots of exercise, you still need to exercise their brain! Toys like the "Dog Casino Puzzle" or the "Treat Maze" and are really good at keeping dogs engaged at any age.
Can't decide which toy to try first? Try them all. Get the best toys sent right to your door with a BarkBoxand Super Chewer BarkBox subscription. Each month your pal will get the most interactive toys to keep them captivated! A carefully curated box of toys, treats, and chews will make #BarkBoxDay your pup's favorite day. Owners can tailor their dog's box to best fit their furry friends, especially those with allergies! If you have any questions, don't hesitate to reach out to the friend Happy Team on BarkBox.com or email [email protected].
Looking For More Posts Like This?
What Are The Best Toys For Pit Bulls?
What Are The Best Puzzle Toys For Dogs Who Get Bored Easily?
Why Should You Spay Or Neuter Your New Dog?