With age comes wisdom. And senior pups know what they like. Tastes can change over time, and this is true for dogs too. So while marathon games of fetch and humping any leg in sight may give way to walks on the beach and long fart-filled afternoon naps, it doesn't mean that your pup isn't looking for a good playtime. Chances are, they've just acquired more, say, sophisticated tastes.
Here are 5 types of toys that will get your senior's game on:
Just because your dog has outgrown trying to catch a squirrel in the yard, doesn't mean they're not still fantasizing about catching it. But let's face it, who needs the aggravation? Let the puppies fall for that "catch me if you can" act, and give your dog something to do that doesn't involve getting taunted by some jerk in a tree. Thinker Toys are a great way to keep doggy minds active while adding some fun to each day.
There are many different styles of puzzle toys, and they usually have a designated "difficulty level" so you can gauge what works best for your pup. A pack favorite is the "Dog Hide n' Slide Puzzle." This Level 2 (Intermediate) puzzle has dips you can hide treats in which are covered by sliders that your dog can move using their nose, paws, tail, whatever!
Even if your pup may not want to run after a ball all afternoon, that doesn't mean they don't want to play a game with you .Toys that you and your pup can tug and wrestle with might just be what you need to check off "playtime" on the daily agenda. All they have to do is clamp those jaws tight and let you do the rest of the work. See? Wise.
One irresistible tug toy is "Cunning Colin" from BARK's Tugimal collection! Featuring pull-through T-shirt rope, a furry tail, cracklin' crinkle, and classic squeakers, your senior pup is sure to find something here worth fighting for!
Food! The great motivator! Almost every dog likes treats. So toys that dispense treats as they tumble are a surefire way to unlock your senior's inner playtime pup! Many of these toys "reward" play by dropping yummy morsels as they're tossed and tumbled.
If doggo would rather sit and stay while he plays, consider BARK's "Max the Marching Penguin." Just fill Max with your pup's favorite yummy concoction (banana, peanut butter, raw goat milk, bone broth, etc.), freeze it, and let them lick the day away!
While the sound of a squeaker or the crackle of crinkle paper may not be a playtime catalyst for your dog, that doesn't mean plush toys can't hold a place in their heart. Or chompers, for that matter. Many pups are excited by different textures, fabrics, and furs, and there are plenty to choose from. Your pup may even just want a big stuffy to pal around with and carry from place to place.
One toy to try would certainly be BARK's "Gordon the Giant Sloth." With long fur to shred, ballistic nylon claws to chomp on, and big fluffy body to snuggle, this plush toy is a playtime pal for pup's of any age!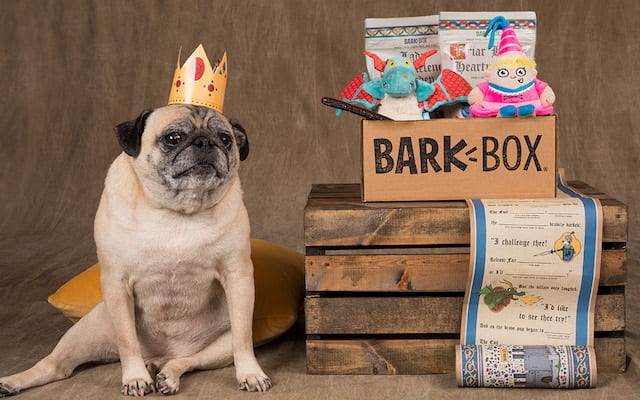 Can't choose just one toy for your senior dog? Then BarkBox is the perfect solution. This monthly subscription service delivers everything your older buddy could possibly desire straight to your door. This includes 2 unique toys, 2 bags of tasty treats, and 1 scrumptious chew.
Basically, if you get BarkBox for your senior, they'll think you're the wise one.