When it comes to dogs, it's hard to find a breed as sweet, loving, and playful as the Shih Tzu.
Shih Tzus love to cuddle and can definitely play the part of a lap dog. But that doesn't mean they'll be content just sitting at your feet all day! Shih Tzus are full of playful energy, which is why they respond so well to toys.
But if you want your Shih Tzu to be happy and entertained, you can't just get them any toy. You need to get them the right toys.
But what toys are best for Shih Tzus?
As mentioned, Shih Tzus are full of playful energy. But if you don't find a positive way to channel that energy, it can quickly go from playful to mischievous.
That's why Thinker Toys are such a solid choice for Shih Tzus. Thinker toys are like puzzles for pups; your dog has to figure out how to get to the treat that's hidden within the toy. Not only is it fun for the dog (what pup doesn't love treats?!), but it also engages their brain, which can help channel that playful Shih Tzu energy and keep them out of trouble.
Shih Tzus are smart pups, so you can go with something simple like the "Bacon Pawplexer" or something a bit more complex like the "Dog Tornado Puzzle." Either way, they'll have fun.
Shih Tzus are small dogs, so they don't need a ton of exercise. But if you don't incorporate at least a little movement in their day (especially if they're on the younger side), they can get antsy.
Fetch Toys are a great way to keep your Shih Tzu entertained and exercised. Throwing a fetch toy like the "Orbee Globe Ball" for a few minutes every day will give your Shih Tzu the exercise they need (just make sure to choose a Fetch Toy small enough for them to fetch comfortably!).
Shih Tzus are very cuddly, affectionate dogs that don't love to be left home alone. But you can't be with your Shih Tzu 24/7—so why not get them a Plush Toy to cuddle in your place?
Dogs attach to plush toys, and will carry them around the house and snuggle up with them on the couch. This attachment can provide comfort for your Shih Tzu when you're away from home – which is why it's one of the best kinds of dog toys for this breed.
Because Shih Tzus are such a small breed, go with a smaller plus toy like "Penny the Pineapple" or "Bouncin' Babette."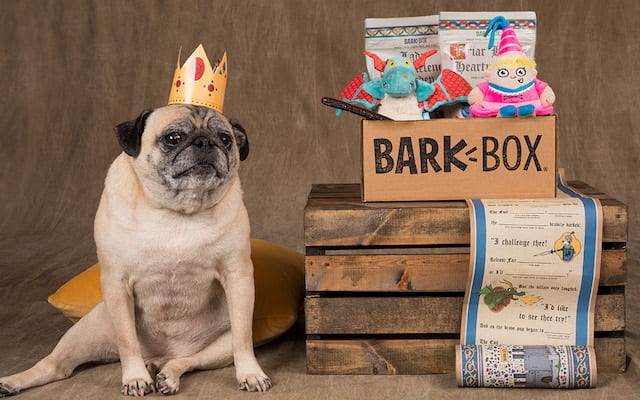 When it comes to which toys are best for Shih Tzus, you have plenty of options. But if you want to keep your Shih Tzu happy and entertained, a variety of toys is key.
And that's where the BarkBox comes in. With the BarkBox, you'll get two top-notch original toys, two bags of yummy treats, and a meaty chew delivered to your door every month. (Talk about variety!) And because each box is tailored to your dog's size and preferences, you'll only get toys and treats your Shih Tzu will be sure to love. Sign up here and receive a free extra toy every month. <– This deal is worth up to $120 in value if you sign up for a 12-month subscription! 🙂