My dog Lady joined my family on a chilly day in late September, and one of the first things I noticed was how much she shivered on the short walk to our car. I worried her short-haired fur wasn't enough protection, so I got her a gray hoodie to match mine. The shivering stopped.
If you've got a short-haired pup like mine, a senior dog, or a young puppy, chances are your dog may need some extra coverage during colder weather. But before you get your favorite doggie a sweater that makes him look like an overstuffed sausage, here are some tips for keeping your dog warm without sacrificing style.
Make sure it's the perfect fit.
Your pup's clothes should never restrict their movement in any way, because that's just a recipe for an unhappy pooch. If your dog is showing you signs that he's miserable, doublecheck the fit of his sweater for any spots that are too tight or too loose. This
Ware of the Dog Striped Cardigan
is comfy, soft, and has sleeves that won't drag on even the shortest pups.
Your dog shouldn't look like he has fleas.
Remember being a kid and hating the scratchy sweaters your mom insisted you wear? And all the way to school you just sat there all itchy and sweaty with a general air of hatred for everything and everyone? Save your pup the discomfort and get her a sweater that is soft to keep her toasty against the winter chill.
Brighten up your dog's wardrobe with fun designs.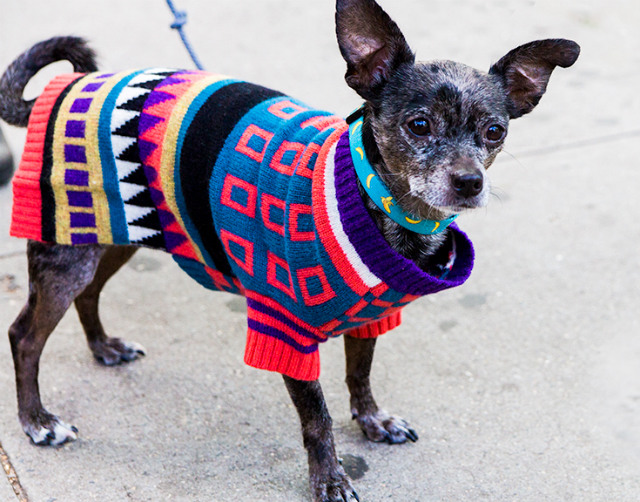 Okay, so your dog may not care whether their sweater is a monochrome solid piece or a clusterpup of patterns and colors, but you might. After all, your pup's sense of style is directly tied to you. This Ware of the Dog Jacquard Sweater boasts an "intricate pattern" that is "absolutely mesmerizing," which is all you need to be that cool dog owner at the dog park.
To check out the rest of the pawmazing gear available for stylish pups, head over to BarkShop!