It's your dogs birthday, its time to celebrate! The happy pup in your life is another year older, and you want to make sure to give them the attention they deserve. They've done so much for you, its time to return the favor and show the furry friend in your life what they mean to you. But how??
Well, this list of 31 creative things to do for your dogs birthday might just have the answer…
1. Have An "Unboxing"- With A BarkBox
There's no going wrong when treating your pup to new toys and treats. With BarkBox let your pup tear apart the cardboard and unveil their new sweet surprises.
2. Pet Fence Window
Watch the birthday excitement ensue as your pup gets to see what's beyond the fence. With this innovative pet fence window, let your favorite friend experience the world from their own backyard. The perfect birthday gift for the curious pupper in your life.
3. Take A Pupper Art Class
Let your pup express their creative side with a painting class! Bond with your pup while creating abstract works- with your dog as the artist. It's art that you're bound to cherish forever.
4. Furbo Treat Tossing Dog Camera
Give your pup the gift of constant love and attention this birthday with the Furbo Treat Tossing Dog Camera. This 1080p full HD camera with night vision allows you live stream video to monitor your pupper right on your phone. With two-way audio and the ability to throw your pup a treat this camera will make your pup feel like you never left.
5. Bake A Pupcake
Nothing shows your love and affection for your pup like food. This Birthday bake the dog in your life a special dog-friendly cake to show him that he is the best good boy out there.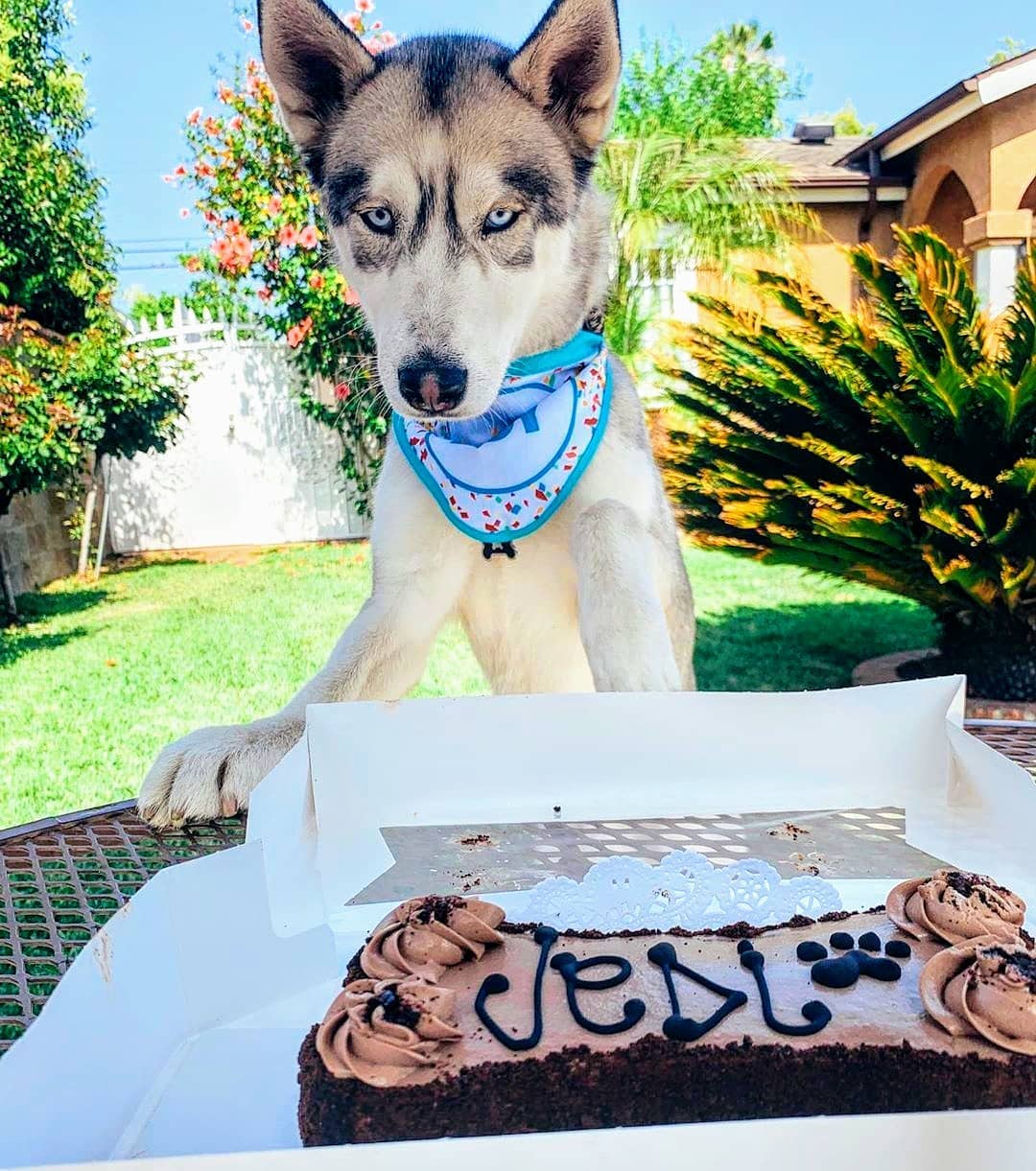 6.
Embark Dog DNA Test Breed Identification
Embark on a journey with your pup to determine his origins this birthday. With the Embark Dog DNA Breed Identification Test, you can finally find out if your pups instinct to herd your friends is because he's part Shepard- or just his goofy personality.
7. Orthopedic Dog Bed
Let your pet snuggle up this birthday in a brand new Ultra Plush Pressure-Relief Memory Foam Dog Bed. This orthopedic dog bed offers comfort and support for your pup. In fact, it's so cozy that you may find your dog laying on their bed instead of the couch.
8. Write A Book, Featuring Your Dog As The Lead
Every pup wants to be the hero of the story. Show your love by making him the star of his own! Services like Petlandia allow you to write your own pet-centered novel in a quick and easy format.
9. "Treat Me It's My Birthday" Bandana
This adorable "Treat Me It's My Birthday" bandana is the perfect gift for your dog this birthday. While it's stylish and cute, your pup will really thank you for all the treats he receives because of its message. How could you pass up an opportunity to let the world spoil your pup?

10. Take Your Dog Out To Dinner
Wine and dine your pup at some of the best dog-friendly places in the country! Check out this list of pupper friendly places, free products, and secret dog menus.
11. Get Your Dog A Massage
Like humans, dogs get stressed and have muscle tension too. Help the four-legged friend in your life relax this birthday by treating them to a Massage.
12. Party On! Hat
Get the party started with this Party On! Hat. This gift functions as an adorable party hat and will soon become your pups new favorite toy. The adjustable bungee cord with velcro closures makes for the perfect fit, not to mention a killer game of tug.
13. Treat your Pup To A Puppuccino
What's a birthday without some sugar? This yummy sweet is bound to win your pup's heart! Want to make one at home? Check out this article for the inside details on making your own!

14. Throw A Puppy Party
Make your dog the talk of the town by throwing the event of the season: Your Dogs Birthday Party. Invite all your dogs closest friends from daycare, the dog park, and maybe even the dog walker? (Human snacks should be provided as well)
15. Personalized Birthday Treats
Make your pup feel extra special this birthday with some custom birthday treats! Customize these treat with your pups name and an illustrated lookalike. These personalized birthday treats are bound to stand out to your dog- and make a cute photo to share with your friends.
16.
iFetch Interactive Ball Launcher for Dogs
Give your pup the gift of constant playtime this birthday, with the iFetch Interactive Ball Launcher. This on-demand ball launcher lets dogs play fetch to their hearts' content, it's a birthday gift that just keeps on giving.
17. Philosofur All-Purpose Paw Salve
Treat your pupper to some self-care this birthday, with the Philosofur All-Purpose Paw Salve. Use this special formula to prevent your pups' paws from getting dry and cracked, keeping those paw pads soft and happy. Happy paws = a happy pup.
18. Join An Agility Class
Schedule some weekly bonding time with your pup by joining an agility class! A great way to keep an active pup happy and engaged.
19. Major Rager Party Cake
Because every dog deserves a slice of cake on their birthday. This seven-slice fuzzy cake has durable frosting, furry flames, and sits nestled in a real cake box. The Major Rager Party Cake. Give a gift your pup will enjoy just as much as real cake, but with half the mess.
20. Learn A New Game
Spice up puppy play time with a new game! Check out this article on the best games to play with your dog to keep playtime exciting and fun (for both of you).
21

. Take Your Pup On A Roadtrip

Roll down the windows, buckle your seatbelts, and go for a drive! Celebrate your pup this birthday by hitting up all their favorite places. Take a trip to the beach or dog park, stop by their favorite pup bakery, and let them enjoy the breeze in their fur as you drive them around their day of fun.
22. Have A Photoshoot – With A Professional Photographer
Make your pup feel like the star of the show and create memories to last a lifetime. Your Facebook friends will thank you for the influx of cute dog that shows up on their feed.
23. Decorate Their Crate
It's your pups birthday and you want your dog to feel special on their day in the spotlight. What better way than decorating their crate to make them feel like a superstar?
24. Poo Poetry Bag
Make walk time more fun for you and your pup with these poo poetry poop bags! A more fun walk time for you means more walks for your pup. So basically this is a great birthday gift for both of you.
25. Let Your Dog Sleep In Your Bed
They love you, and they love snuggles. Nothing makes a pup happier than sleeping with the pack. Trust me, waking up to puppy kisses is even cuter than it sounds.

26. Fitbark Activity & Sleep Monitor
This birthday, give your pupper a gift they didn't know they needed. The Fitbark dog activity monitor is a fun way to show your dog you care, and make sure they're getting the exercise they need. Get a gift that motivates you and your pup to get off the couch.
27. Personalized Dog Bowl
Personalize dinner time with this custom dog bowl! Make your pup feel extra special this birthday when you serve his meal in a bowl just for them.
28. Puppy Ball Pit!
This birthday give your dog the surprise of a lifetime- a ball pit adventure! Fill a kiddy pool up with some balls and watch as your pup rolls around in pupper heaven.