Looking for awesome gifts for the medium-sized dogs in your life? Spoil them with a BarkBox! Every month, receive two original toys, designed in-house, two full-size bags of all-natural treats, and a savory chew. Sign up here and get a free extra toy every month. <– This deal is worth up to $120 in value if you sign up for a 12-month subscription!
Pups who fall in the middle of the size category are well acquainted with what "just right" means. We researched and chatted with dog parents of collies, shepherds, hounds, bulldogs (the list goes on and on) to put together 31 dog gifts that are perfect for our medium-sized pup friends.
1. BarkBox, $24.95/month
One of the best things about BarkBox is selecting the right options suitable for the lucky pup you're gifting. That means if you're shopping for a dog who falls right around the middle in the size category, you can start building your box by selecting "Just Right" where toys and treats are sized for 20 – 50 lb dogs. Each box comes with 2 bags of tasty treats, 2 toys, and 1 meaty chew delivered every month.
Why We Love It:
New treats and toys every month!
The gift that keeps giving
Tailor specifically to a medium-sized pup
The fastest way into a person's heart is pizza, and pups are no different! We're in love with this adorable box of dog cookies shaped into a pizza. This is the perfect gift for any dog who has been a very good boy or girl.
Why We Love It:
8 unique hand-decorated pizza slice cookies
Made from human-grade ingredients
Each cookie is individually packed for sharing
Who doesn't need a sweet hedgehog in their life? Your medium-sized pup will love this super chewer toy. Sven is sweet on the outside, tough on the inside.
Why We Love It:
Made of natural rubber
Includes a squeaker
Textured hedgie gives more satisfaction for the chew
We're always on the lookout for weekend excursions that our furry friends can come along for. Another gift that will equally excite your human and pup is a gift certificate to a dog-friendly camping experience.
Why We Love It:
Gift an experience
Allows human and pup to spend time outdoors
Beautiful accommodations
WilderDog's leashes are durable enough for dogs who get excited on their walks and sometimes pull. Made of the same material as rock climbing rope, these leashes are as durable as they are stylish.
Why We Love It:
Reflective tape on the leashes are great for visibility in the dark
Locking carabiner for maximum pup security
The carabiner leashes are made specifically for medium dogs and larger
Gordan might not exactly be giant, but he is the perfect size for a medium pup. No pup party is complete without Gordan's friendly face.
Why We Love It:
Gordon's locks are perfect for dogs who love shredding
He's got squeakers for hours of play
He's stuffed with fluff for dogs who like to toss and catch
Snuffle mats are great for pups who like a challenge. Hide treats inside the folds and ribbons and put your dog to the test. This Etsy shop makes snuffle mats for pups of all sizes.
Why We Love It:
Triple-tied fleece fabric
Provides fun and brain stimulation
A fun, cheerful print
This leather collar is a beaut, handcrafted in Australia. The soft peach leather paired with gold hardware gives the perfect amount of class and edge.
Why We Love It:
Leather is lightweight, yet durable
Comes in a fancy, velvet package
Makes a great gift
Punching bags aren't just for Boxers! Your English Bulldog or black Lab might be interested too. Either way, this is the perfect toy for a brawny pup.
Why We Love It:
Comes in a small or tall size
Is made with a leather-like material that can withstand the toughest chewers
The t-shirt rope is ready for a good game of tug
If you know a pup who's been very good, you might want to treat them to one of Animals Matter's luxury dog beds. Each bed is decked out in heavy, 16 gram Faux Fur that is generously stuffed with upholstery-grade, hypo-allergenic, high memory-spring fiberfill that maintains its shape over time. Now that's fancy.
Why We Love It:
A perfect gift if you're in the mood to spoil
Great for protecting your medium pup's joints
Ultimate relaxation and comfort
We have to admit, we were drawn to these beautiful ceramic bowls because they remind us of cupcakes or Reese's Peanut Butter Cups. What's not to like? The size of these bowls is made just for pups that fall right in the middle of the size category.
Why We Love It:
Comes in great, modern colors
Heavyweight
Lovely matte finish
One of the things we love most about chillier seasons is all the great comfort food and delicious meals shared with family. This stuffed ham really gets us into the spirit and will get your medium-sized pup in the spirit too.
Why We Love It:
Great for tossing and tugging
Super plush
Crinkle for the win
We've seen our share of stylish dog bow ties, but this is possibly the coolest necktie we've seen! Neckties are perfect for a taller canine friend who has less risk of tripping.
Why We Love It:
Hilarious lobster print
Business meets style
Attach easily to the collar with velcro
We'll be honest, this gift is equally as appealing for humans and pups. Olivia Wendel's new line of animal-inspired blankets caught our eye. Measuring 54 x 72 inches, it's sizable enough for dogs of any size to lounge on.
Why We Love It:
Print is inspired by Olivia's dog, Marzipan
Made of 100% U.S.-grown cotton
It's versatile and can be used as a picnic blanket or wall hanging
What pup wouldn't love a barrel of apples? This multi-part adorable toy is a crinkly barrel filled with two plush apples for double the fun.
Why We Love It:
Teach your pup to carry their toys in the barrel
Great for fetch
Three in one toy
It makes sense that a sizable pup needs a sizable toy box as well. We love this handmade crate for storing playtime necessities. You can customize the crate how you like. We're really digging the dark paint paired with the modern typeface on this one.
Why We Love It:
Crate is hand-crafted
The lower front provides easy access to toys
Personalized
We've been waiting for the release of Bocce's Bakery crispies. These are light snacks, only 3 calories each that are made for training and snacking throughout the day. The fun and colorful designs make these a great gift.
Why We Love It:
Made with quality, human-grade ingredients
Health-conscious
Great packaging
Zeke is a very adorable beaver. His pull-through legs will be a new challenge for even your most seasoned tug-o-war pup.
Why We Love It:
Pull-through legs are made from soft, stretchy rope
The crazy crinkle tail
The material medley gives Zeke so many textures
Lucy & Co.'s reversible harnesses are great for stylish pups who want to change up their look sometimes. They offer a full range of sizes from small to XL, so our pups in the middle are definitely covered.
Two in one style
Adjustable chest straps for a better fit
Water repellant for easy care
For a #2 situation, these durable bags with clever poop puns will make the doody task a bit more fun.
Why We Love It:
Comes with 300 premium quality bags
100% oxo-biodegradable
Leak-proof guarantee
We've been waiting for Wild One's release of their toy kit, which comes with three toys made especially for tugging, tossing, and chewing.
Why We Love It:
All toys are made with 100% natural rubber
The bundle comes with toys for every type of play
The bolt bite is great for tug AND hiding treats
For the human and the dog who love home-baked treats, this book is filled with simple recipes that can easily be made in your own kitchen.
Why We Love It:
Simple recipes that are easy to make
Budget-friendly
A huge variety of treats from kong stuffers to breath fresheners
Do you have a pup who loves a chewing challenge? This adorable rabbit has a rounded, wobble base which makes him harder to pin down. The super chewers will find a rubber core inside with bristles that clean peanut butter teeth – that's a bonus for pet parents.
Why We Love It:
Reminds us of one of our favorite Japanese animation characters
Soft plush outside
Natural rubber core
Okay, we have to admit we're suckers for really good packaging. But on top of that, we're also into companies who take dog food seriously. That means sourcing fresh ingredients and customizing quantities to fit your dog's needs.
Why We Love It:
The website calculates the food portion based on your pup's specific weight and body type
Ingredients are straightforward: just meats, fruits, veggies and a dose of fish oil
The food was created to focus on digestive health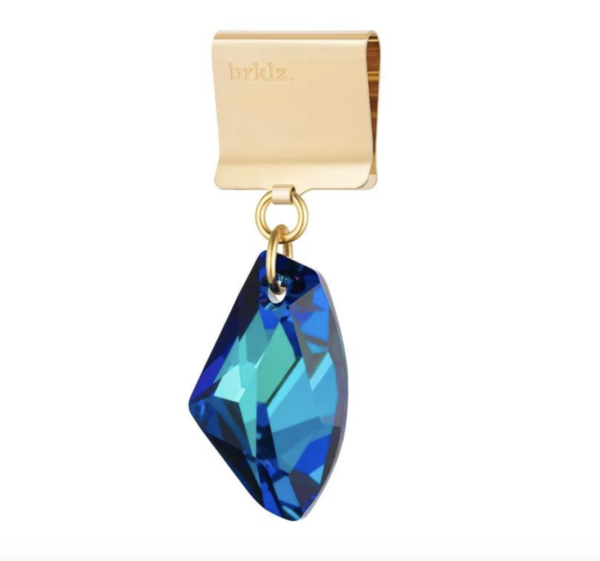 If you know a fancy pup, brkl now has a line of bling for them. Dogs need jewelry too, right? We especially like the mysterious galactic pendant.
Why We Love It:
Has a large size for pups over 25 lbs
Clip comes in a 24K gold, rose gold, or black gunmetal
Adds a little sparkle to your pup's collar
Squeaky toys are great, and personalized squeaky toys are even better. These soft bones are handmade and make the perfect doggy gift.
Why We Love It:
Comes in multiple sizes
Can be gift-wrapped
Cotton and wool blend makes it durable for tough chewers
We are loving Harry Barker's new collection, Winter Whimsy. This beautiful latticework biscuit tin caught our eye. Buy the tin and the biscuits come free.
Why We Love It:
Great, classic design
Perfect for gifting
Bacon-flavored
These candles not only help to keep your house smelling fresh but also contains essential oils that are veterinarian-recommended to help soothe your dog's anxiety.
Why We Love It:
17 subtle scents to choose from
Benefits humans and pups
Is dog-safe
One of the things we love about pie (and there are many) is that they can be enjoyed year-round. Your medium-sized pup will be delighted with this slice of blueberry, which is full of fluff-stuffed berries and a crinkle pie crust. Yum!
Why We Love It:
A perfect toy for the gram
Not one, but two squeakers
Made for pups who love to de-fluff
For the adventurous pup and human, we're eyeing Thirty Pup's dog water bottles. It's perfect for hikes, playdates, and long car rides.
Why We Love It:
Comes in a large 18-ounce size for our medium-sized friends
A mess-free solution
Solves all our doggy hydration problems
Our bigger pup friends also pack a louder paw pitter-patter when they walk, especially on hardwood floors. Let's not forget the happy jingle of the dog tags. If you're in a situation where you need a bit more quiet in the house, Road ID's silent Pet ID tags are really handy.
Why We Love It:
Great metal options including rose gold and graphite
Amazing engraving to ensure all the most important information is included
A more streamlined doggy tag solution
The weighted blanket trend has been extended to dogs as well. If you know a pup who could use a little extra comfort from separation anxiety or during thunderstorms, this blanket would make a great gift.
Why We Love It:
Helps reduce pup anxiety
Different weights available
Washable, removable cover
Looking for a gift to blow your pup's mind? Spoil them with a BarkBox! Every month, receive two original toys, designed in-house, two full-size bags of all-natural treats, and a savory chew. Sign up here and get a free extra toy every month. <– This deal is worth up to $120 in value if you sign up for a 12-month subscription!

Want more articles like this?
Dog Gift Guide: 31 Gifts Perfect For Small Dogs
31 Creative and Mind Blowing Gifts For Your Dogs Birthday
Fun Father's Day Gifts For the #1 Dog Dad
23 Dog Gifts To Include On Your Wedding Registry