Most dog owners are familiar with the carnage that usually follows the act of giving your dog a new Plush Toy. Within hours, minutes, even seconds of receiving their gift, your pupper has absolutely shredded their toy, raining fluffy white clouds of…well…actually, what are those fluffy white clouds made of?
Polyester Fiber Fill Means…What Again?
As with stuffed toys for humans, most stuffed dog toys are filled with something called polyester fiber fill. You may be familiar with polyester – chances are some of your clothes or household items contain it. But what exactly is polyester?
Simply put, polyester is a type of plastic. And polyester fiber fill is more or less just what it sounds like: plastic formulated into strands or fibers that can be used as stuffing for a whole slew of toys for dogs and humans alike.
While we tend to think of plastic as a not-so-healthy substance, the truth is it's considered relatively safe for use in toys, even ones your dog puts in their mouth. Now that doesn't mean you should go and let them eat the stuffing after they've shredded their new Christmas present! Polyester fiber fill can get stuck in your dog's digestive tract and cause issues, so it's best to dispose of the plastic viscera post-shredding.
There are of course other types of dog toy stuffing out their in the world. Some are variations or close relatives to polyester fiber fill. Others still have more organic origins like cotton or corn fiber. Regardless of what it is or where it comes from, as with all food or toy items you give to your dog, it's a great idea to check out what it's made of.
Which Toys Have Stuffing?
Plushes are soft, fluffy toys (due to the aforementioned polyester) that dogs often love to chew on and tear apart. If you have a dog who enjoys a good shred, look no further than a high-quality plush toy like BARK mainstays "Bruce the Bungee Bear," "Chompin Charlie," or "Chester's Nuts."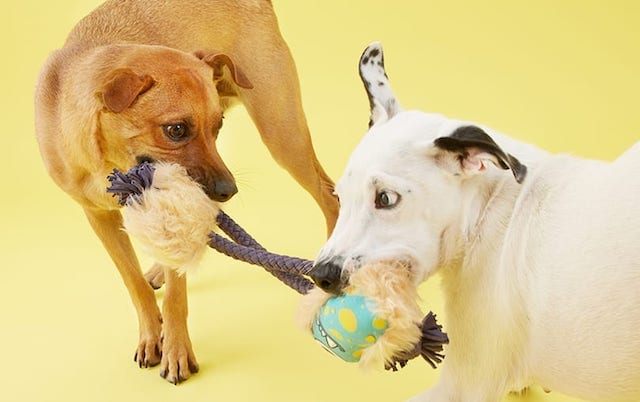 It's all in the name! Tug toys are for doggos who love a good game of tug o' war with their humans or dog friends. And most tug toys contain a plushy element that dogs can shred as well. Don't know exactly what kind of tug toy your canine pal might be into? Check out "Bruno Branches Out," the "Hide-N-Go-Zeke" Tugimal, or the "Tea Bea" Tug Bug for starters.
Spiky Core Balls Toys are a great gift for dogs who love shredding their toys and playing with squeaky balls. Toys like "Monsieur Acorn," "Consuela the Cactus," or "Penny the Pineapple" can be squeaked and played with long after they've shed their plushy exterior. It's a classic doggy twofer.
Which Toys Don't Have Stuffing?
Maybe you'd rather your dog not rip their toys to shreds. If that's the case, check out a classic rubber Super Chewer Toy like "Llana the Iguana" or something nylon like the peanut-butter-infused Benebone.
If you like your dog's toys filled with stuffing, considering subscribing to the classic version of the BarkBox. You'll get 2 stuffing-filled toys, 2 bags of treats, and an all-natural meaty chew delivered to you every month.
Or if you'd rather have some stuffing-less toys, upgrade to the Super Chewer version of the BarkBox. For just a few dollars extra, the toys are super-durable and you'll get 2 meaty chews instead of one.