Interactive toys are designed to catch your dog's attention and keep them coming back for more, all while providing a paws-on experience for your pup. These are toys that ask the question: what do pups love, and how can we make that even better? With all that said, there are many variations of an interactive toy, with many things to offer the pup who loves to be engaged with the items they play with.
Stretching Their Brains
Dogs are pretty much famous for their super snooters. Whether it's another dog's butt from half an inch away or a cheese wrapper from across the room, pups are great at putting their noses to work. But did you know that dogs have the brains to go with that winning nose? Puzzle Toys are a great way to test their sniffer and their mind all at once, creating a truly interactive experience. These are the pinnacle of interactive toys, requiring your pup to sniff, search, scratch, dig, and flip before their delicious reward is delivered to them.
What makes Puzzle Toys great is the different levels of difficulty they can bring to the table for your pup, and the different sensory experience this can create as well. Not only is your pup interacting with the scent of treats, but with the tactical aspect as well. Puzzles can offer a variety of methods for solving. Some puzzles have flaps the pup must paw open, while others need to be rotated to reveal different compartments for treats. Puzzle Toys can even require dials and knobs be turned before the pup can get access to the solution. While it might sound like a lot for a dog, these toys are the perfect way to keep your pup focused while flexing your dog's mind.
Keeping Pups Busy
The best interactive toys are ones made with the safety and happiness of dogs in mind. Super Chewer Toys are an excellent example of this. These toys have extra tough materials, like hard flavored nylon and durable natural rubber, which are made to stand up to even the strongest jaws. This makes them great for a pup who likes to get up close and personal with their toys. The more durable an item is, the longer lasting and safer it will be, and the more fun your dog will have. This also makes Super Chewer toys a great option for pups in crates, as there is a far lower chance of stuffing or sections coming off that could lead to ingestion.
As far as interactivity goes, Super Chewer Toys are the perfect mix of safety and function. Flavored nylon toys with fun shapes keep your pup moving and chewing. Wishbone and infinity shapes keep your pup working around the chew, while other shapes offer places to put treats. Pups interact with the toy as they work to hold it still and simultaneously remove the yummy treat. Hard rubber toys often have spots to insert treats as well, which holds your pup's attention as they try their best to nibble and chew those tasty rewards out.
Playing With Human
Interactivity doesn't have to be a one-player game. Nothing brings pups and humans closer then spending time together playing and having a ball. So what does this mean in terms of toys? While any toy can be shared between best buds, these toys foster interactivity by providing the chance for humans and dogs to actively play together. This is where Fetch Toys and Tug Toys come into play.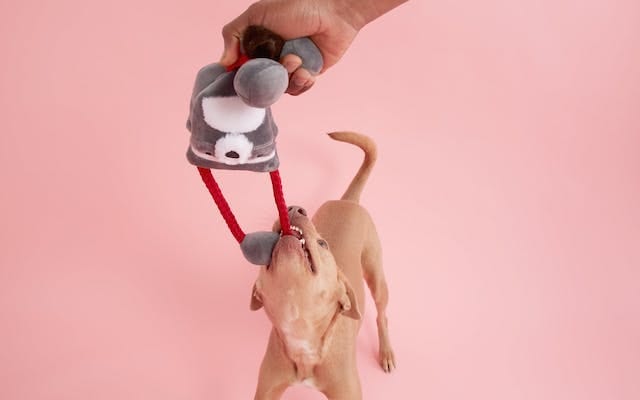 When it comes to Fetch Toys, there are a ton of options out there. The key is to make sure the toy is something you can easily throw, and your pup can just as easily bring back for more fun. Not only are you providing an interactive experience, but you're bonding with your pup every time they bring the toy back. Tug toys are in a similar category because they provide a hands-on chance for you and your pup to play together. With you on one end, and your pup on the other, Tug Toys can easily make you feel like members of the same pack, while also creating a fun, engaging playtime.
Fun Materials
Playtime with plush can be fun, but exciting materials can kick it up to the next level and keep your dog coming back for more time and time again. When a pup goes to play with a toy, it's safe to say they usually aren't expecting much more than the usual squeaker. That's where adding a little something extra to Plush Toys can seriously change the game and make playtime even more interactive.
By adding materials that make different noises and textures, you can make playtime a seriously interactive experience for a pup. Crinkle fabrics, for example, bring a fun texture and sound to a toy that a pup might not experience anywhere else. Different types of squeakers can create grunts or high pitched squeals, calling your pup to action. Some toys can even contain secondary toys on the inside, with spiky squeaker balls and hidden layers that encourage pups to dig in for even more fun.
Can I Make Interactive Toys?
If you've gone through this list and thought you'd like to give interactive toy design a try, you absolutely should! Interactive toys can be made by finding out what your pup loves and playing to that. For example, if your pup is a fan of sniffing and ripping for treats, try putting some treats inside a cereal box and closing it up. Your pup can tear away the outside of the box to get to the treats inside.
Is your pup a fan of tugging at playtime? Take an old towel and tie in some knots. It's a great way to create a tug that has a good grip for you both. There are a ton of great toys you can create that will keep your pup entertained for hours. The important things to remember with interactivity is whether it will keep your dog entertained and whether it's safe for your pup to play with for extended amounts of time. These are toys that your pup will likely want to play with for quite a while, so ensuring that they will be strong and safe enough to stand up to your power pup is important for fun and safety.
Where Can I Buy Interactive Dog Toys?
There are so many places out there to buy toys, it can be overwhelming. But when it comes to finding toys that fit the bill for your pup, BarkShop is the place to go. BarkShop sports a wide variety of toys, treats, and chews, with their toys designed in-house by some of the biggest dog lovers out there, specifically with pups in mind.
BarkShop toys range from plush to the toughest stuff out there, but every toy is made with the happiness and health of the pup in mind. With categories like Puzzle Toys, Super Chewer Toys, Fetch Toys, and even double layered toys, you're guaranteed to find something that works for your dog and keeps them invested in playtime. And if anything misses the mark? The Happy Team is there to help get the perfect replacement into your pup's paws.
What about an entirely interactive experience for both you and your pup? Enter BarkBox! Every month brings a brand new super surprise theme for you and your pup to explore together. BarkBox is 2 toys, 2 delicious bags of treats, and 1 meaty chew, all revolving around a special theme and delivered right to your doggy door.
These toys are all brand new, custom-made for each month's theme, and with the happiness of pups in mind. BarkBox toys have awesome features like tuggable hair, crinkly fabrics, and spiky balls, all meant to capture your dog's attention and keep it. And with their Scout's Honor guarantee, you can rest assured that if your pup isn't a fan of something, BarkBox will do their absolute best to make it right.
When it comes to interactivity, the features that keep a dog engaged and coming back for more are going to vary as much as the pups themselves. Every dog has different preferences, so testing out all sorts of different toys is the best way to find what works best. Interactive toys work to pull a dog in and give them a paws-on experience from start to finish, whether that be slurping up treats, or discovering the source of that weird crinkly noise.