As a dog owner, you want to make sure that your four-legged friend is entertained as often as possible. But you can't be the person to entertain then 24/7 (you have to work, after all!). Which is why you need their toys to step up and entertain them for you.
There's nothing worse than buying your pup a toy—only for them to lose interest five minutes later. If you're going to spend your money on a toy, you want it to keep your pet occupied for hours at a time.
But what toys actually do that? What toys keep dogs occupied—and keep them happy and entertained even when you're not there?
One of the best ways to keep your dog occupied is to engage their mind. And the best toy to engage your pup's mind? Thinker Toys.
Thinker toys are to dogs what puzzles are to people. Your dog has to use all their problem-solving skills to figure out the puzzle and find their way to the yummy treat hidden inside.
There are tons of different kinds of thinker toys, from simple puzzles to puzzle balls—even puzzle mazes! The more complex the thinker toy, the longer it will take your pup to solve the puzzle—and the longer he'll stay occupied as a result!
If your dog likes to cuddle, they need a cuddle buddy to keep them occupied when you're away. And the best stand-in cuddle buddy on the market? A Plush Toy, of course!
Dogs can get super attached to plush toys; they carry them around in their mouth, snuggle them on the couch, and act as though the plushie is their best bud. If you're worried your dog might feel lonely when you're not around, a plush toy is a great way to keep them occupied.
If your dog has a reputation for tearing through plush toys like they're going out of style, a great way to extend the life of their toys—and keep them occupied far, far longer—is with Spiky Core Ball Toys.
A spiky core ball toy is like two toys rolled into one. First, it's a plush toy that your dog can play with, carry around, and—ultimately—rip to shreds (super fun!). But the fun doesn't stop there. Once they've destroyed the plush toy, they'll be excited to find a Spiky Core Ball hidden in the plush—a whole new toy for them to play with!
Like we said, Spiky Core Ball Toys are like two toys in one—and they'll keep your dog occupied for twice as long.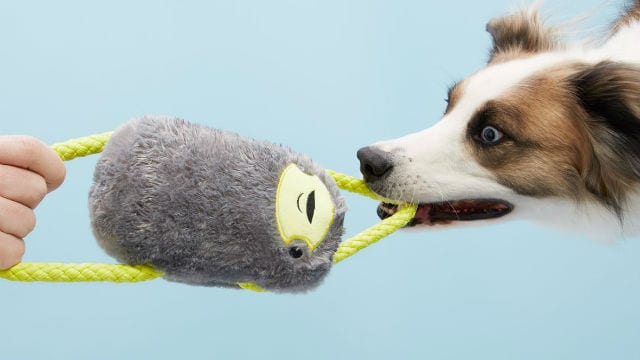 There are few games that pups enjoy more than tug of war. And that's why they love Tug Toys so much!
Tug toys are great for keeping your dog occupied when you're at home; they grab one side of the tug toy, you grab the other, and they can tug away. And if you have two dogs, tug toys are a great way to keep them occupied when you're out of the house. They can play tug of war with each other (and tire themselves out in the process—it's a win-win!).
If you've got a dog that loves to chomp, nothing keeps their attention quite like a chew toy. They can happily sit and chew for hours at a time—but only if their toy can withstand all that chewing!
That's why Super Chewer Dog Toys are so great. They're specifically designed to withstand even the most serious of chompers. That means you don't have to worry about them falling apart the first day your dog chews them. Instead, your dog will have days, weeks…even months of happy chewing in their future. If that doesn't keep a pup occupied, we don't know what will! to keep them occupied.
When it comes to what toys keep dogs occupied, it's as much about the quantity as it is about quality. If you want to truly keep them occupied, you need to keep them stocked in plenty of new things to play with.
That's where BarkBox comes in. With BarkBox, you'll get a carefully curated selection of toys, treats, and chews delivered to your door each month. That's plenty to keep your pup occupied—at least until the next delivery!