Updated 11/19/19! What do you get the pup who has everything? A dog subscription box full of goodies they can't wait to get their chompers on! But with so many options out there, it's hard to choose just one, especially if you've got a finicky doggo. We get it! It's hard to choose from the many dog subscription boxes that exist. And really, at the end of the day, it's your dog's opinion that truly matters.
So we've done the research to help you figure this one out. Because we're just really generous like that, okay?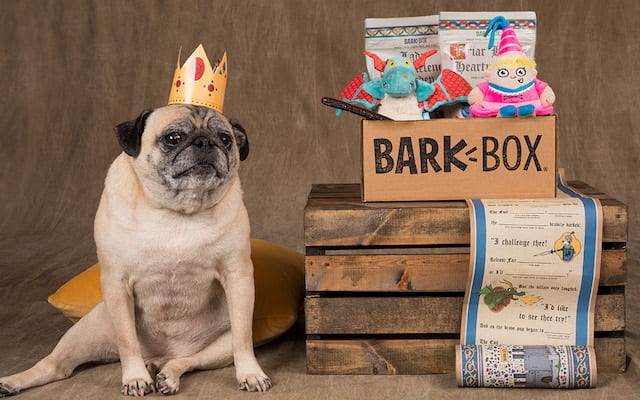 When it comes to delivering joy to you and your pup each month, BarkBox is top dog! You'll both love the surprises created specifically for each brand-new monthly theme, including healthy treats (no wheat, soy or corn!), fantastically fun toys, and gnaw-worthy chews! With so many customization options available, and a Scout's Honor guarantee that ensures no disappointed pups, it's no wonder BarkBox is the leader of the pack!
Price: Plans start at $21 per month.
So, you want to subscribe to BarkBox, but stuffed toys are no match for your pup's chompers. No Plush? No problem! The Super Chewer box contains durable and innovative toys designed specifically by BARK! You still get the unique, adorable monthly themes, customization options and Scout's Honor guarantee, just with a little more BITE!
Price: Plans start at $29 per month.
Fill your pup's tummy, toy box, and closet (it's OK, ours have their own closets too), with the monthly surprises from Dapper Dog. Each box contains toys, treats, and a gorgeous bandana all wrapped up in a fun theme.
Price: Plans start at $22 per month.
Want to spoil your dog while also lending a paw to pups in need? Of course you do! Well, RescueBox to the… uh… rescue! Each box contains healthy treats, engaging toys, and more, curated by a team of pet lovers. But that's not all! For every month you subscribe, RescueBox donates 5 pounds of food and 2 vaccinations to shelter pups!
Price: Plans start at $23.45 per month.
Looking for more than toys and treats for your pup? Pet Treater has you covered. Each box contains a mix of fun and practical items, such as toys (fun!), treats (fun!), grooming supplies (practical!), poop bags (FUN!), etc. Plus, for every box shipped, an item is donated to a shelter pup in need!
Price: Plans start at $15 per month
_______
Looking for a gift to blow your pup's mind? Spoil them with a BarkBox! Every month, receive two original toys, designed in-house, two full-size bags of all-natural treats, and a savory chew. Sign up here and get a free extra toy every month. <– This deal is worth up to $120 in value if you sign up for a 12-month subscription!
Looking for tough dog toys? The Super Chewer box is made for pups who deserve a challenge. Every month, receive two fluff-free toys, two full-size bags of all-natural treats, and two delicious chews. Sign up here and get one month free on any 6-or 12-month plan!