What if you could have a dog without really having a dog?
One of the few things I have found to be true in my young life is that dogs are simply the best. Even so, many dog lovers often find themselves unable to have a dog of their own. Whether it's because of a busy work schedule, or that weirdly dog-adverse roommate you've been meaning to ditch, right now a permanent pooch just isn't in the cards for you.
For all those in this predicament, we've found the answer to your puppy prayers! Here are 10 ways for you to borrow a dog! Think of it like those adorable nieces and nephews that come visit but you get to send home once they poop.
1. Get Paid To Have A Puppy Sleepover!
Dog Vacay is a website that matches loving dog sitters with owners! Dog sitters create profiles describing themselves and their experiences with dogs. Owners can then choose a sitter based on their profile and pay them upwards of $25 a night to take care of their pup!
2. Foster a Shelter Dog
Fostering a shelter dog allows you to have the companionship without the commitment! It also increases the likelihood of adoption for that pup. Websites such as theASPCA and www.petfoster.org provide a multitude of options for foster parents. Both organizations are currently looking for volunteers to provide short-term-in-home care for friendly dogs.
3. Foster a Military Pup
Dogs on Deployment is a national non-profit that helps military members find volunteers willing to board their pets while they are deployed. Military members list their pet's needs, while volunteers list their availability for boarding (which may range from less than 1 month to greater than 12 months). Typically, deployments are 6-12 months long. However, there are cases where military members need short term boarding.
4. Borrow My Doggy (literally!)
Borrow My Doggy is the perfect way to do just that! This unique website connects dog owners with local dog borrowers for walks, play dates, and even sleepovers! Owners create a profile for their pooch complete with details and photos. They then browse through matches based on distance and availability in hopes of choosing one for a meet & greet (also known as a welcome woof).
5. Guide Dogs of America: Become a Puppy Raiser!
Guide Dogs of America is always looking for responsible puppy raisers to socialize and provide basic obedience training for future guide dogs. Volunteers become foster parents to eight-week-old puppies, and return the pups at about eighteen months.
6. ASPCA: Dog Volunteer
The ASPCA is constantly looking for dog volunteers to provide exercise, socialization and basic training for shelter dogs. The main responsibilities include walking dogs and cleaning up after them. You must be 18 years or older, and requisite training is provided by the ASPCA.
7. Take a Shelter Dog Hiking
Places like theRed Mountain Resort in Utah pawtner with shelters to provide guests with the opportunity to hike with shelter pups! These programs have been set up in Utah, Colorado, and the Greater D.C. area. In addition, most rescue groups will lend out their dogs for a day trip. Check with your local shelter for guidelines!
8. Volunteer with Local Shelters
Animal shelters such as theBrooklyn Animal Resource Coalition are flexible with volunteer commitment. Most shelters encourage participation from the community. You can check out the needs of the rescues in your area through Volunteer Match and The Shelter Pet Project!
9. Assist with a Mobile Adoption Center
Mobile adoption centers travel each week in hopes of introducing shelter pets to new pup parents. Volunteers are needed to assist with events, as well as day trips! The ASPCA, Animal Haven and Best Friends Animal Society are just a few of many in need of an extra paw. 😉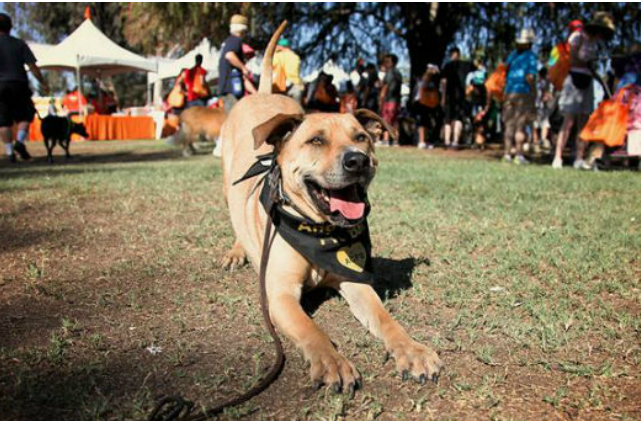 10. Beg for a Building or Office Dog (It's worth a shot!)
While it may not be easy it's surely not impossible! Check out Emmy, a miniature English bulldog who's the communal pup for her building. Residents are allowed to play with her inside, or take her for walks in the dog park.
Featured image via Express