All shelter dogs are worthy of a caring family, but there are some that are a little different and need a bit of extra love. Whether they have birth defects or issues from their lives before being rescued, these pups are labeled special needs. Unfortunately, this label often makes them less likely to be adopted, sometimes taking up to four times longer than their other furry friends to find homes.
Luckily, Instagram has brought a lot of positive light to these dogs, showing that even though they're different, they're just as loving as any other dog and make amazing family members. Check out some of these special pups below!
Fifty is a two-legged rescued Pit mix. He was wandering the streets near his home in a suburb of Chicago when a police officer found and shot him in the front and back legs. This resulted in him being turned over to a shelter, and many pushed for him to be euthanized. Fortunately, he was rescued and now lives with a big loving family.
2. @bfaske
Apollo was found in Houston, TX near a landfill in an area known for dumping dogs. He was found malnourished – filthy, weighing only 28lbs, and clearly abused – and he was missing the front of his face including his nose. He now weighs a healthy 60lbs. He is quite the scholar and is currently attending level 2 of training courses at a doggie college.
Daisy is a rescue pup, abandoned on the streets of California at just two months old. Daisy's elbows, right shoulder, and back hips are dislocated, but she doesn't let that stop her from smiling with that adorable underbite. Her humans put her in doggie prosthetics to prevent too much stress on her spine and they're pretty sweet-looking.
Smiley was born without eyes. He spent two years in a puppy mill before being rescued from there. He is now a certified child therapy dog with St. John Ambulance!
5. @olive_bully
Olive is an American Bully that was born with a cleft lip and palate and an oversized tongue. Puppies born with birth defects such at cleft palates are often euthanized. She's proving that different can be quite cute if you're open-minded!
Tucker is a two-year-old rescued albino Min-Pin/Chihuahua/Miniature Poodle mix. He was born with a rare disease called Mucopolysaccharidosis VI (MPS VI). Tucker has lost his ability to walk and mostly crawls with his front legs, while pushing himself with his back legs, but is still happy and loving life.
Nana is a pretty well known Instagram star and Pit Bull advocate. She is a senior Pibble, rescued at 8 years old after being used for breeding her whole life. When she was rescued, she was missing almost all her teeth, had skin cancer, and also had "big cauliflower-shaped, disfigured and infected ears," most likely from a botched ear cropping job. After extensive medical care, her ears were removed entirely and she was left deaf. This didn't stop her from enjoying her new life, though. She now spends most of her time napping and snacking.
Lilo is a seven-year-old chocolate Dachshund, also known as the weenie on wheels! Lilo suffered from Intervertebral Disc Disease IVDD when she was five, but she has been living a happy life on wheels ever since.
Cuda is a pint-sized Pit Bull. Her tag line is "oddly shaped and evenly perfect." Cuda has what is known as Short Spine Syndrome. She also has an underbite, asymmetrical paws, and a sloped back and tilted chest from her short spine. She was turned in to animal control after her people no longer wanted her. After some investigation, it was discovered that Cuda was originally purchased on Craigslist for $50 from backyard breeders. Cuda is now a certified therapy dog!
10. @theblindbeagle
Shep is a blind Beagle that was found alone on an Alabama highway. He was found with one eye missing and the other non-functioning. He was missing a lot of fur and had chain marks around his neck. He eventually got the non-functioning eye removed since it was causing a lot of pressure and pain. Since then, he has been living a carefree life. His human says that his blindness doesn't set him back in any way. He still runs up stairs, goes to the dog park, to pet stores, and plays with his best bud and brother, Banjo.
11. @chilberg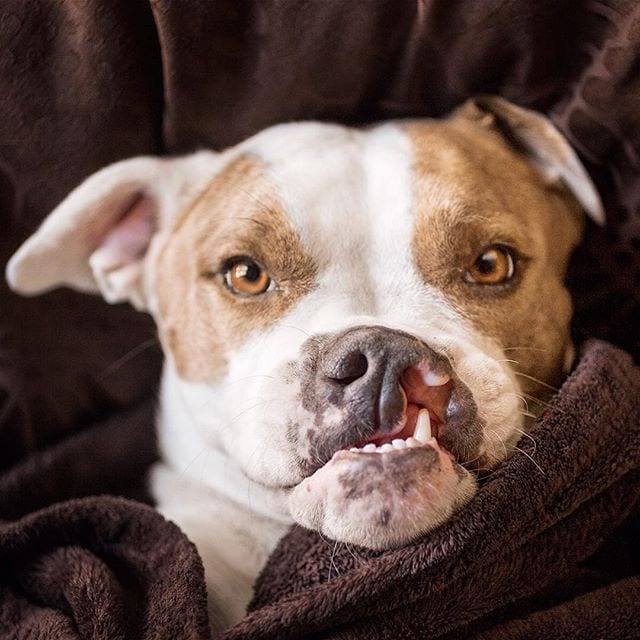 Puka is quite the Instagram star, with almost 24k followers. Her human spotted her back in 2011 when she was just a tiny puppy, about 12-14 weeks old. Puka was wearing a bow tie and sitting next to a passed out homeless man on a bus stop bench. Her human and her friend noticed Puka's deformity in her upper lip and were worried she might need surgery, so they bartered with the man and ended up getting Puka for $100. Luckily, her cleft lip is just cosmetic and causes no issues for the beautiful girl.
12. @turboroo
Turbo is the spokespup for handicapable animals worldwide. Turbo's story starts when he was surrendered to a vet in Indianapolis at just 4 weeks old. He was born without his front legs. The vet tech and her boyfriend immediately adopted him and did everything they could to get Turbo strong and healthy. They built him a makeshift cart of toy parts and after he started making it into the news, an aerospace engineer in San Diego noticed him. The engineer used a 3D printer to make a Turbo-sized cart for Turbo and he became the first pup to ever use a 3D printed set of wheels!
13. @swieberthedog
Swieber was found wandering around a train station when he was about two years old. He was extremely scared of people and rescuing him was quite difficult. When animal rescuers finally got him, they noticed he had an underbite and something was a bit off with his jaw. When his human met him for the first time, it was love at first sight. He sat in her lap and slept, relaxing for the first time in a long time. Now he is always smiling and proudly showing off his teeth!
14. @toothfairypixie
Pixie is known as the Toothless Chihuahua on Instagram. Wandering the streets of Los Angeles when she was found, there were many signs of abuse and overbreeding. She also has a crooked jaw, possibly from it having been broken, and a pink nose, possibly from getting burnt. She now spends most of her days napping and drooling on her human.
15. @ff_mrfignewton
Mr. Fig Newton had a real rough start in life. He was rescued at four weeks old from backyard breeders, weighing just one pound. He had a cleft lip and palate, but luckily his foster mom raised funds to get him corrective surgery. The photo above is from before the surgery.
16. @odieseyes
Meet Odie the blind Shih Tzu. He's on a mission to show people that dogs with disabilities can lead happy lives. His motto is "Love is blind!" Odie was rescued when he was about five years old and shortly after that was diagnosed with a very bad case of glaucoma. The best solution was to have his eyes removed. Odie is now happy as a clam and 100% pain free.
17. @oxdad
If you ever see an adorable dog zooming around on the sidewalks of NYC, it's probably Oscar. Oscar was abandoned under the Williamsburg Bridge in NYC and was found dragging himself. He was immediately picked up by animal services and placed on death row. Thankfully, his human fell in love him the second he saw Oscar on Facebook and went to get the pup on his last day. Now Oscar has a sweet set of wheels and zips around the city with his rescue sister, Tiki.
Featured image via @underbiteunite