We had a lot of trouble titling this piece. It was supposed to be about creepy dogs, but it turned out there a lot of creepy humans out there too. Surprise. So we decided to include a range of creepy dogeness, so you can hit your creepy quota.
Here are 22 of the creepiest… creeps…
1. "Did you fart again? Did you, Mom?"
2. "Someone left it on this channel. I swear." #GameOfBones
3. "Thanks for sharing your treats, now hold still!"
4. Sure, this is a dog being creepy to a dog. But a human filmed it. #RuffFilm
5. What started as an innocent Jiu Jitsu match quickly turned dark.
6. Putting Miley Cyrus to shame. #WreckingBall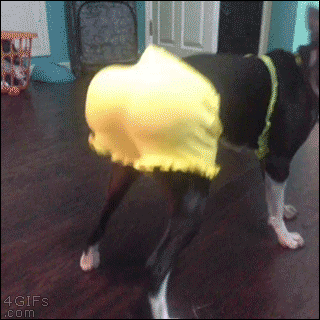 7. "MMMM, you have to work for the best treats." #DontForgetTheCracks
8. "Please don't wake up please don't wake up please don't wake up."
9. "More! More! Now rub it in… rub it." #RubADubDub
10. "Are you my mom?… NOPE!"
11. "This is awkward, but… I'm only into doges."
12. "…" #NoTouching
13. "Just wait, Breadstick. Soon I will have you."
14. "No. More. LEASH!"
15. Because he had frosting, nipples, and a dog. That's why.
16. "I think it's time to do the laundry." #CheerUp
17. "Call me Mufasa!"
18. Dad: "Doesn't that hurt your… Oh yeah. Never mind." #YouTookMyBalls
19. Guess it's time to talk about the birds and the bees…
20. "Wanna see me blink?"
21. Actually, this isn't creepy. What a man and his dog do is nobody's business but their own.
22. And just in case you've never had a creepy doge moment of your own, well, here you go.
Featured image via Eat Me Daily