BARK partners with shelters, rescues and non-profits to help support their efforts in many ways. Want to get your local shelter or rescue involved? Have one of their representatives visit www.barkbox.com/lendapaw to learn more!
It's quite common to see our favorite celebrities walking around town with their beloved four-legged BFFs. But did you know that a lot of these celebrities are avid rescuers? Here's a solid round-up of celebrities that shunned "buying" pups so they could rescue and adopt!
1. Selena Gomez and Baylor
Although Gomez adopted Baylor with her ex-boyfriend Justin Bieber, Baylor is now all Gomez's pup. In fact, Gomez is quite the rescuer–Baylor is her 6th rescue! Watch her gush about her pooch here.
2. Charlize Theron and Tucker
Theron is a huge animal advocate and has been very active in that arena. Theron's also adopted three other dogs; Tucker is actually her fourth rescue.
3. Hilary Swank and Karoo and Rumi
Swank is a longtime animal advocate. In fact, she told Petfinder: "I am a really big advocate for speaking up for animals that need to be adopted, and when you think about the statistics, to me, there is no other option but to adopt." Swank is never without her furbabies and is often seen traveling with her pups to shoot locations.
4. Jake Gyllenhaal and Boo Radley and Atticus
Both of Gyllenhaal's dogs are rescues and named after Harper Lee's iconic characters in To Kill A Mocking Bird. In an interview with Movies Online, Gyllenhaal said that he had a rather distant relationship with animals growing up, but after Brokeback Mountain, he felt like he was ready for a dog.
5. Zooey Deschanel and Dot and Zelda
As soon as she met Dot, Zooey fell in love with her. When she found out that Dot had a sister, she adopted the sibling as well because she couldn't bear to separate this sweet sibling pair. Watch Zooey share her awwwdoption story here.
6. Rachel Bilson and Thurman Murman
Bilson's famous for adopting multiple dogs throughout the years. (Remember her pup Penny Lane that she adopted with her O.C. co-star/then-boyfriend Adam Brody?) Though Brody and Bilson eventually broke up, (boo!) she continued to share a strong bond with Penny. She also has her current rescue pup Thurman Murman, a grumpy grandog extraordinaire!
7. Ryan Reynolds and Baxter
Reynolds says he was looking for a pooch for his friend when he quite awwdorably "fell in love" with his now pup. In an interview with ABC News Reynolds said, "I saw this big, dumb-looking Retriever staring up at me…I whispered to him, 'Hey, let's get the hell out of here.' And he jumped up, like he spoke English fluently. He came with me, he jumped in the car, and we've been best buddies ever since."
8. Jane Lynch and Olivia and Francis
"When I met my dog at an adoption fair, I said 'Olivia' and she gave me this look that said, 'Yeah, whatever lady, just get me out of here!'" Lynch recounted in an interview for Cesar's Way. Her other dog Francis was an unplanned adoption. While playing with the dogs and cats at a Kinder4Rescue.Org adoption event she came across (what looks like) a Catahoula mix pup. She left without adopting–but then she came right back for him!
9. Kellan Lutz and Kola and Kevin
This scorching hot guy from Twilight also happens to be a huge animal lover and adoption advocate! (We're swooning here.) In an exclusive interview with PETA, Lutz recalled the day he met Kola: "I touched her toe and said, 'Hey, what's your name?'" He also said, "She spoke to me." Kevin, his Chihuahua, is also a rescue.
10. Jon Hamm and Cora
Hamm adopted Cora with his long-time girlfriend Jennifer Westdfeldt. In an interview with Animal Fair, Hamm said, "We went and saw her and fell in love, she's been in our lives for eight years."
11. Emma Stone + Andrew Garfield and Ren
Stone already had a dog when she decided to get Ren with her boyfriend, Andrew Garfield. According to People Pets, they initially fostered the Golden Retriever before falling completely in love and adopting her.
12. Kristen Bell and Lola and Mr. Shakes
We ALL know how much Bell loves sloths. (Remember that time her husband gifted her a sloth for her birthday and she cried and cried?). Well she absolutely loves dogs as well! Both her dogs are adopted. She even saved her pup Mr. Shakes from being euthanized! You can watch her sweet adoption story here.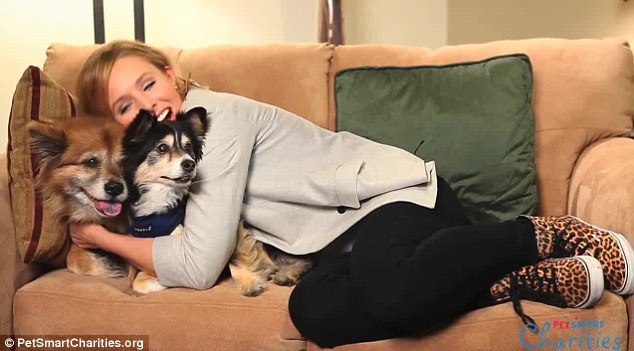 13. Orlando Bloom and Sidi
Bloom rescued Sidi from Morocco when he was filming Kingdom of Heaven in Africa. His Saluki mix pup goes everywhere with Bloom! Watch him talk about his BFF and the meaning behind his pup's name here.
14. Simon Cowell and Squiddly and Diddly
Cowell adopted his cute Terriers in late 2013. Turns out he's quite the animal ruver. I mean, can you even picture Simon freakin' Cowell talking all things doge and coo-ing over his pups? If you can't, let me help you a little. You can watch him go all goo goo ga ga on The Ellen Show.
15. Anne Hathaway and Kenobi
In July of this year, Hathaway added Terrier mix rescue Kenobi to her family. She also has a beautiful Chocolate Lab named Esmerelda.
16. Bradley Cooper and Samson and Charlotte
Cooper rescued Samson when he saw the German Short-Haired Pointer on a kill-shelter site. He fell in love with 7-year-old Charlotte at an adoption drive. He shared his animal ruv on People Pets: "I lucked out, I got two great rescues…I'm sort of a hybrid of both my dogs. Samson is stoic and makes me earn it and Charlotte loves me undyingly. They're my kids." Watch him talk about his pups here.
17. Miranda Lambert and her SIX Rescues
Lambert rescued three of her dogs from a shelter and found the other three in various places. That's some true doge love.
18. Josh Hutcherson and Driver
If he didn't already melt your heart as Peeta in The Hunger Games, this is going to turn it into one soppy pile of mush. Hutcherson didn't just rescue any pup, he rescued a Pit Bull puppy that was at the shelter for a 110 days! Talk about a whole lot of heart. Driver was dropped off at a shelter with two toes missing and a broken leg, but was able to get surgery right in time for Hutcherson to take him home. Puppily ever after indeed.
19. Kaley Cuoco and Shirley, Norman and Ruby.
Cuoco has THREE rescue Pit Bulls as well as her most recent adopted pooch, Ruby. Watch her share stories about her wonderful dogs and their quirks here.
20. George Clooney and Einstein
Silver fox, actor, humanitarian and all-around movie star, Clooney rescued his dog from a shelter in early 2010. He came across Einstein online. In an interview with Esquire, Clooney recalled, "So I go online and see Einstein. They had a whole film about him. It was actually really sweet. You see him all beat up and shit in the shelter, and they show how they cleaned him up. God, I love this dog. So I called and said, 'I like Einstein!'"
21. Amanda Seyfried and Finn
The relationship between Seyfried and her Australian Shepherd rescue is seriously one of the sweetest ones out there (as evidenced by the picture is above). In an interview with Ellen DeGeneres Seyfried said, "He cuddles with me and he listens to me, and he loves me and he looks at me all the time." He's also is the quite literally the most famous celebrity pet with his own posse of Twitter followers.
22. Sandra Bullock and Poppy and Ruby
Bullock actually has three dogs who are all rescues and who all happen to be special needs pooches! Poppy is a tripod, Ruby is a bipod, and Bebe (not pictured) is a Chihuahua with a missing eye. We're seriously impressed with Miss Congeniality here.
23. Jennifer Aniston and Dolly and Sophie
Aniston rescued white German Shepherd Dolly in 2006. And she recently rescued a Pit Bull with her fiancé Justin Theroux whom they named Sophie. And in an interview Aniston said, ""We were there (at the shelter) for three hours, and I'm telling you, I…almost [walked] out with three puppies. It's so hard. That's why we named her Sophie, because it was Sophie's Choice. I was crying – it was so hard." Aniston's love of dogs is very well known. After all, when Norman (the ruv of her life) passed away in 2011, she got a tattoo of his name in his honor. That's proof enough that Aniston's pup love runs deep and strong.
24. Kelly Clarkson and her Band of Rescue Pups
Besides Clarkson's pup Joplin (who passed away in 2013) and her other furbabies Bear and Wyatt, Clarkson also cares for around 30 rescue dogs. And that's not including the horses and pigs and other animals she has essentially adopted. She's a glowing example of kindness as she used her huge ranch home to help all these animals. In an interview with NME Magazine Clarkson said, "It's like a rescue ranch now. We have 30 dogs, 14 horses. We still only have three ponies and four minis, but we have goats now, two pigs we rescued called Miss Daisy and Boss Hog, I gave those to my brother."
This list was hard to cut short, because there are so many more celebrities doing amazing things for shelter animals. So, while we didn't include them in the list, we'd like to tip our hats to them for being pawesome!
Sniff this related article: 26 Of The Most Influential And Inspiring Internet Dogs Of Our Time.
Does your dog get more likes than you do? We'd love for you to join our BarkPack. BarkPack is for pups with an engaged social media presence interested in getting paid to spoil your dog. Head to www.barkbox.com/barkpack to sign up!
Looking to make a difference right now? Use code BARKGIVES on BarkBox.com for 50% off your first box on any 6 or 12 month plan PLUS we'll donate $10 to our rescue partners with every redemption!
Featured Image via Wallpaper Series