BARK partners with shelters, rescues and non-profits to help support their efforts in many ways. Want to get your local shelter or rescue involved? Have one of their representatives visit www.barkbox.com/lendapaw to learn more!
Stories abound of how dogs provide comfort to — as well as perform functional tasks for —  humans with both physical and non–visually identifiable disabilities. This article, however, focuses on the reverse — humans who are helping to provide love, medical care and assistance in finding a furever home to dogs with disabilities or those who may be more difficult to place.
Both humans and animals with disabilities can be marginalized, however, the rescues and organizations below value these dogs as we all should. To them, they are simply a dog.
1. Deaf Dogs Rock
Deaf Dogs Rock (DDR), whose slogan is "Deaf dogs hear with their hearts," began with Nitro, a Boxer puppy who was found abandoned by a river in Salem, Virginia. Nitro, who also happens to be deaf, has helped bring visibility to other dogs like himself. While DDR is not a rescue, they are a 501(c)(3) non–profit that networks deaf dogs, provides educational tools, participates in community building as well as helps provide financial assistance for needs of deaf dogs.
2. Special Needs Animal Rescue and Rehabilitation
Special Needs Animal Rescue and Rehabilitation (SNARR), another 501(c)(3) non–profit, is a rescue based out of St. Martinville, Louisiana that focuses on "animals least likely to receive another chance due to physical, emotional, behavioral, or health issues."
While working at a shelter with an extremely high euthanasia rate of 85% and approximately only seven dogs adopted out a month, Robin Menard began networking these dogs through Facebook. Within three months, her efforts resulted in an average of 110 dogs being adopted out a month. Understanding the power behind these numbers, Robin decided to found SNARR.
Dogs who have been rescued by SNARR range from a paralyzed dog named Moja to a litter of six hairless puppies with severe mange to a puppy named Rudy who has a rare condition known as Cranio Mandibular Osteopathy and more. SNARR recognizes that their adoptable animals have special needs, but it's not what you may think. Their very specific special need is that "they need someone like you to love and care for them."
3. Blind Dog Rescue Alliance
Just like Deaf Dogs Rock, Blind Dog Rescue Alliance (BDRA) understands that a dog can still communicate despite being differently–abled. BDRA's slogan of "Blind dogs see with their heart" showcases their belief that even though some dogs may not have eyesight, they still can do what matters most — give and receive love.
A 501(c)(3) non–profit with volunteers spread throughout the United States and Canada, BDRA strives to help blind and visually impaired dogs through rescuing such dogs in shelters, providing assistance to blind dog owners and educating the public.
4. Pets With Disabilities
When Pets With Disabilities' (PWD) founders Joyce Darrell and Michael Dickerson's dog, Duke, was still a puppy, he broke his back while playing, causing him to lose the use of his back legs and require a wheelchair.
A few months later, Joyce and Michael adopted Misty — another wheelchair–bound dog — who had been at a New York shelter for over five years. Seeing that there were no support systems or educational tools for those who had a pet with disabilities, Joyce and Michael began PWD, a rescue that also offers support, education and wheelchair assistance.
5. Panda Paws Rescue
Founded in 2011 by Amanda Giese and Gary Walters and a 501(c)3 non–profit, Panda Paws Rescue (PPR) specializes in providing care for dogs who are "medically needy, special needs and hospice." Something else that makes PPR slightly different is that the majority of the dogs who PPR rescues are personally fostered in the home of Amanda and Gary.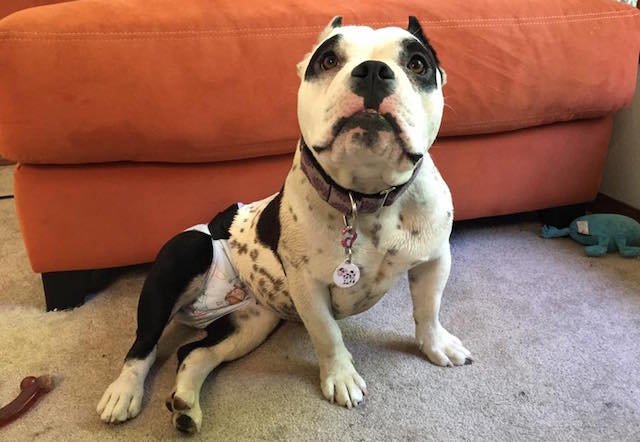 While Amanda and Gary like to try to foster as many dogs as possible in their home, some dogs can claim the status of permanent family member — like Duncan Lou Who. Duncan Lou Who, or DLW for short, is a Boxer who was born with his rear legs fused in an X shape. Both of his rear legs were amputated as they were twisting Duncan's spine and "100% unusable." Now, Duncan is proof of how resilient special needs dogs are. He was up and walking on two legs just an hour after his surgery.
https://www.youtube.com/watch?v=6N0HpAU4i1c&feature=youtu.be
6. Rolling Dog Farm
Rolling Dog Farm (RDF) began almost 16 years ago with Steve Smith and Alayne Marker's dream of creating a "special place for animals with disabilties." The name of this 501(c)3 non–profit was born from the joy that Steve and Alayne witnessed when their dogs would roll on their backs in the "sagebrush and grass–covered meadows."
After a name change for the rescue and a cross–country move, that joy has still carried on throughout the years. As Steve and Alayne write on RDF's website, "There isn't a single animal here who feels sorry for him or herself. Each and every one of them loves being alive."
7. Heath's Haven Rescue & Sanctuary
Many rescues are started because of that one very special dog and Heath's Haven Rescue & Sanctuary (HHRS), a 501 (c)(3) non–profit that is located in Post Falls, Idaho, is no exception. HHRS began in 2010 when Jolene and Shawn Heath adopted a Husky mix puppy named Phoenix who had hind end weakness.
The Heaths ordered a wheelchair for Phoenix and started her on acupuncture and hydrotherapy treatments. Seeing the wonderful quality of life they were able to give Phoenix — a dog who could've been euthanized otherwise — inspired the couple to use their time and resources to help other dogs like her.
HHRS rescues dogs who would otherwise be euthanized for neurological and mobility issues, spinal injuries and/or paralysis. Once in their care, the dog is evaluated by a specialist so that they can further understand the best treatment moving forward and then rehabilitation begins. HHRS rehabilitates their dogs using numerous techniques — acupuncture, hydrotherapy and physical therapy. Once rehabilitation work is done, each dog is given their very own wheelchair that will go with them once they are adopted.
To see just how happy, well–adjusted and wheelchair–rockin' HHRS' dogs are, watch the video below (and grab a tissue).
All of these rescues and organizations are able to continue their important and much–needed work through donations. Links to help support their missions can be found below.
Special Needs Animal Rescue and Rehabilitation
Heath's Haven Rescue & Sanctuary
Featured image via Panda Paws Rescue
Looking to make a difference right now? Use code BARKGIVES on BarkBox.com for 50% off your first box on any 6 or 12 month plan PLUS we'll donate $10 to our rescue partners with every redemption!