As anyone who has ever rescued a dog can vouch, going to a shelter and making that connection and then being able to step in and save a dog's life is a feeling like no other. You've made all the difference in the world to that dog and will go on to love and take care of them for the rest of their life. So why doesn't it feel like we get the short end of the stick? Probably because there is plenty our dogs do for us on the daily.
A recent thread on reddit asked, "What do you get out of your relationship with your dog?" The answers were as varied as dog breeds, but all prove just how awesome it is to have a pooch in the family.
Here are some of the most popular answers.
1. Laughter. "She makes us laugh all the time, whether it be from just doing something hilarious or because of her weird quirks." -reddit user Staleina
Dogs are derpy doofuses who, often without meaning to, give us a reason to throw our heads back and laugh out loud.
2. An exercise buddy. "I don't have the motivation personally. The dogs get me out hiking every day though, even in the most god-awful weather. Once I'm out, you can't help enjoying yourself seeing how happy they are." -reddit user mikeyo73
Those of us who love to exercise get a new workout buddy, and those of us who don't get one anyway. Win/win, if you ask us. So get out there and get that heart pumpin'!
3. Cuddles and affection. "She was my constant companion. She kept me sane and kept me from relapsing into my depression. She kept me going." -reddit user DunDunt
One sentiment shared by many pup parents is that their dog is always there for them, even when people aren't. And who can resist snuggling with a fluffball?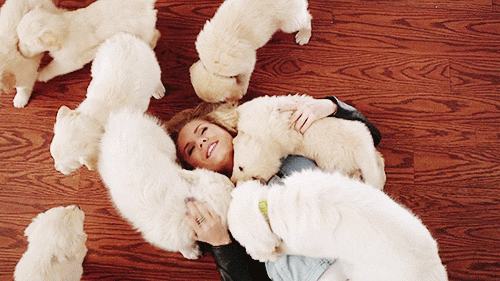 4. A coworker. "I work from home, so I call her my co worker. She naps in my office and has lunch with me on the deck." -reddit user girlvinyl
Now, not all of us are lucky enough to get to bring our dogs to the office or work from home with our pets playing happily in the next room. Here at BarkPost HQ, puppy petting breaks are a thing, which, frankly, is pawssibly the #1 reason I'll never want to leave this place. Our office pups work hard most of the time, contributing valuable input during meetings (although sometimes their ideas may get lost in translation).
5. A couch buddy. "Someone to sit on the couch and eat cold cuts with me." -reddit user CresidentBob
Someone to sit with you and watch horribly embarrassing reality TV without passing judgment. Someone to share your popcorn with while you watch ridiculously bad horror movies that seem more like comedies. Someone who will lick your tears away when you watch old Grey's Anatomy episodes on Netflix. Denny + Izzie 4ever.
6. Getting to know the neighbors. "Now I know at least 20 dog owners and realized how lovely the neighbors are. Well… At least those that have dogs." -reddit user Larvaontheroad
If you're like me, and avoid making small talk with the people next door at all costs (like knowing the exact second to hit the garage door opener so you can slide right into the garage and avoid having to wave at them while they mow their lawn), then dogs are a great way to get out there and meet people in the least awkward way possible. I mean, answering questions about your dog is a lot easier than commenting on the weather for the millionth time.
7. Kisses. "It's hard to have a bad day when every morning starts with puppy kisses." -reddit user pawsbarkery
Yes, I kiss my dogs. Deal with it, Mom.
8. Free doorbell. "He works much better than our non-functioning doorbell." -reddit user IBDPhoenix
Our dogs sometimes know there's someone at the door before they even get the chance to knock. Does anyone else's pup look at the door whenever a doorbell rings on TV?
So what do you get out of sharing your life and home with a dog? (Besides loads of hair and smelly doggy farts, of course!) We want to hear from you!
Featured image via The Lazy Pitbull