***Looking for a gift to blow your pup's mind? Spoil them with a BarkBox! Every month BarkBox delivers 2 original toys, designed in-house, 2 full bags of all-natural treats, and a chew. Our treats are made in the USA and Canada, and our recipes never contain any wheat, soy, or corn. Because we want #BarkBoxDay to be incredible for pups AND their parents, every box is wrapped in a fun surprise theme that changes monthly. Sign up here and receive a free extra toy every month. <– This deal is worth up to $120 in value if you sign up for a 12-month subscription! 🙂
Everybody knows that the biggest perk of having a dog is their amazing ability to dispense love to you whenever you're around them. On my daily commute home, I look forward to turning the key and hearing the familiar jingle of dog tags as my pup Lady cuts one of her many naps short to come get snuggles from Momma.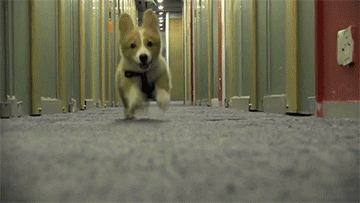 But when I want to put my bag down and take my coat off, she's stuck to me like velcro. And for the rest of the night, she's always underfoot. One of the hardest habits to shake when I'm away from her is remembering I don't have a shadow following me around. To give you an idea of how bad the problem is, here's what Lady chose to swish under the bathroom door as a reminder that she would still be there when I was done:
So why do our dogs follow us around?
If you've got a dog like mine who follows you into the bathroom, he might just be returning the favor for all the times you've watched him drop a deuce. Think about it — it's the time when you're most vulnerable, and your pup probably wants you to feel like he's got your back because that's what best friends do. At least that's what I tell myself, because anything else makes me think my dog has some poop fetish and that's too much for my brain to handle right now, thanks.
Another reason might be that your pup really likes being around you. In a remarkable study done that involved training dogs to lie still in an M.R.I. scanner (which is hard enough for us two-legged folks to do), scientists found that dogs' brains respond to familiar sounds and smells in a way that suggests that they do, in fact, love us and consider us family.
But love isn't the only reason your dog wants to be your #1 sidekick 4eva. You might just be a messy eater and your pup sticks around to catch the Cheeto that will inevitably fall out of your hands. Doggy serendipity, if you will.
Another study done on relationships between dogs in packs found that dogs are more likely to follow the most friendly dog, not the pack leader. So why does my dog follow me? Well the fact that your dog follows you around like a groupie looking for an autograph might suggest that your pup feels safe around you, and that means you're doing something right. So keep giving out those belly rubs and ear scratches, you rad human! 😀
Featured image via @itslolathepug /Instagram
Want More Articles Like This?
Why Does My Dog Stare At Me? What Does It Mean?Does My Dog Actually Love Me Back?9 Dog-Friendly Offices That Are Totally HiringWhat Are Hotel Chains That Allow Dogs?Is BarkBox Worth It?