Lets begin with the fact that my dogs Levi and Molly LOVE their crates. The first few nights of crate training, like any puppy would, they whined (AKA broke my heart). After about a week they realized it was their own special spot in the house that humans wouldn't venture into. They began storing any extra treats they snagged in there, and also used it as a place to sneak away to during parties. But regardless of how convenient they are, I could never stand how ugly they looked. They also don't seem like the most comfortable things to lie in.
I've tried inserting beds, like this Christmas one I bought for Levi, but he quickly rips them to shreds. I've put blankets down but before I know it they are completely covered in dog hair and slobbery germs.
After trying several beds and blankets my Mom came up with the idea of buying a ton of Easter mats that were on sale after the holiday. She gives Molly and Levi a new mat two to three times a week (each Easter themed, all super embarrassing) making their crates that much harder to look at…
When I heard BarkShop would soon be carrying crate covers it was like the Doggie Gods had answered my prayers. The Jax & Bone crate cover up sets include a cover, a thick crate padding for inside of the crate, and thick 3-sided crate bumper.
Basically the set makes the inside of the crate super cozy for your pup while disguising the large cage in the room as another piece of furniture. The mat and bumpers are made with a super durable and thick material too so there's no temptation for my dog to tear through any thinning material, or chew on any peaking through fluff. It even withstood shark-like puppy teeth (tested by our very own office puppy Ryder).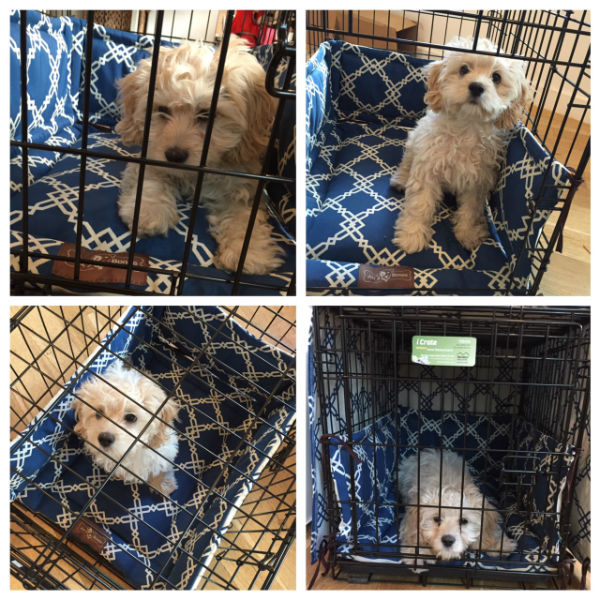 The thick material isn't only durable but super soft too. The best part though might be that it's washable, making it that much easier to wash away any dog paw germs or slinkiness.


The verdict? This set is a serious must have for any crate loving dog & human duo (trust me, you'll both thank me later). 😉
To see all colors and styles of the Jax & Bones crate covers click on over to the BarkShop! Your one stop shop for pups and people who wish they were one. 😀
Ready to spoil your pup with a monthly box of dog goodies!? Head over to the BarkBox website!
Featured image via BarkShop