Celebrate the food, culture, and the biggest boot a pup could chew with BARK's Bonegiorno, Italy collection! Available now at Target.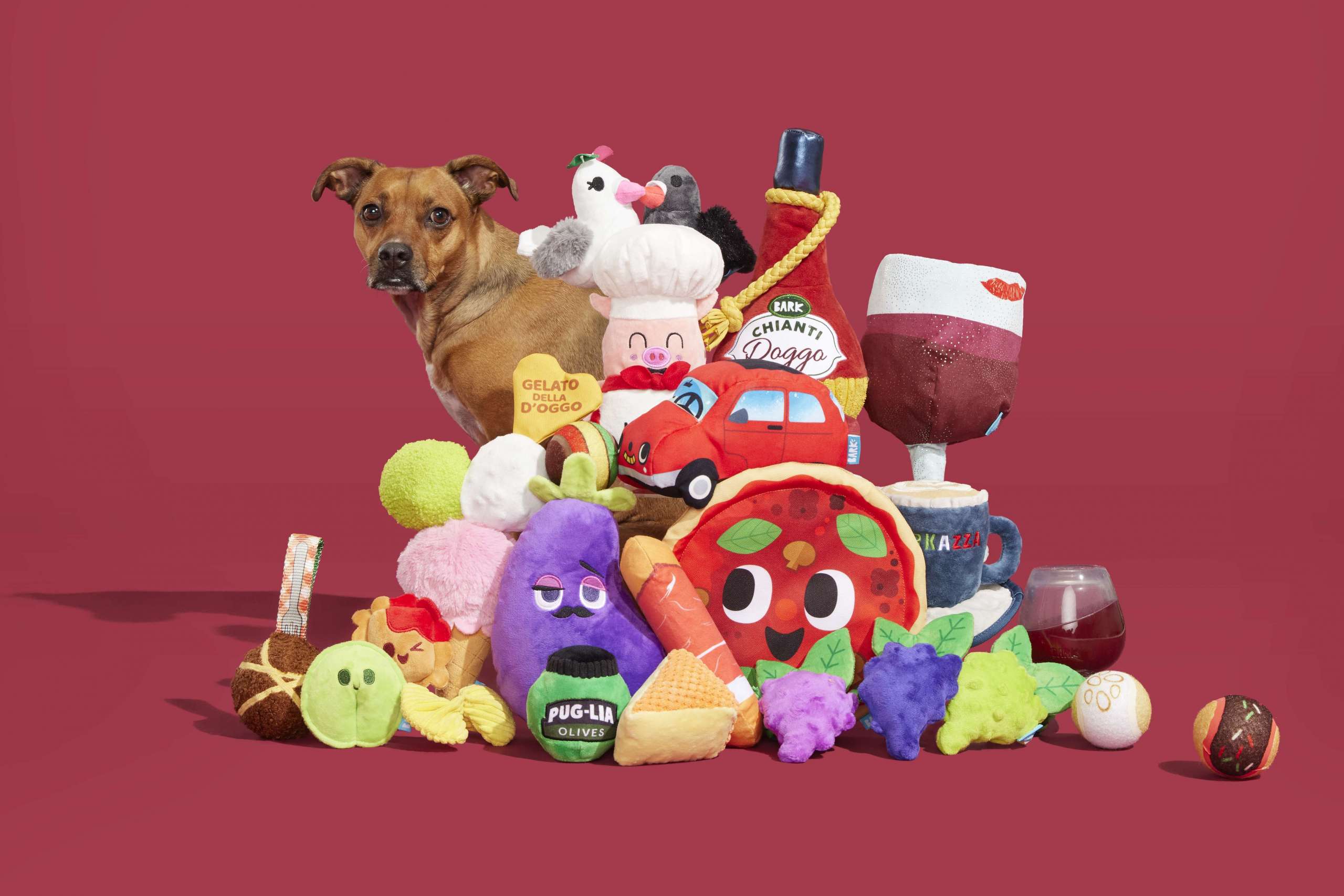 Gelato della D'oggo
This Italian ice cream dog toy will have your pup beg for amore. Gelato della D'oggo is made with a scoop of fluff, a sprinkle of squeaker, and a medley of materials for playtime that's gelato fun.
Primo Pawsto
This Italitan antipasto dog toy bundle is mutto bene! Primo Pawsto's three squeakers, crazy crinkle, and tons of fluff make it the perfect plate to bring to your next puppy playdate.
Chianti Doggo
This wine dog bottle toy is the perfect way to wind down after a long day of zoomies. Chianti Doggo has notes of fluff, a deep squeaker, and a T-shirt rope that makes for a complex and delightful mouthfeel for your pup.
Ravioli Homies
Bring your dog's next chew session to a rolling boil with these plush pasta dog toys. The Ravioli Homies are stuffed with three squeakers and crazy crinkle for pups who prefer playtime to be served howl dente.
Giancarlo a GoGo
This Italian car dog toy can go from 0 to 60 tail wags in one toss! Giancarlo a GoGo comes with one classic squeaker, crazy crinkle, and is com-packed with fluff. If you hear squeaking, that's just your dog playing on the horn.
Tony Pupperoni
This pig chef (or capocuoco) dog toy may not be Nonna, but his food still slops! Tony Pupperoni is packed with fluff, a squeaker, crazy crinkle, and a whole lot of old family recipes for fun!
Capupuccino
This cappuccino dog toy is a full pour of fluff, a dash of crazy crinkle, and a dollop of squeaker. It's the perfect way to perk up your pup and start the day off mutto bene.
Coo Amore
These pigeon dog toys will make your pup's heart flutter. Coo Amore includes two squeakers, lots of fluff, and whip-n-flip wings. These birds of a feather enjoy pooping on statues, sharing spilled spaghetti, and spending their 4-hour lunch break playing with your pup.
Signore Pizza Face
This pizza dog toy is a fluff-free Pisa heaven! Signore Pizza Face is made with crazy crinkle and a T-shirt rope crust that's perfect for fetch. And when this toy hits your dog's eye like a big pizza pie, that's amore!
Chew The Grapevine
This grapes on a vine dog toy is a bunch of fun! Chew the Grapevine has three squeakers, crazy crinkle, and a T-shirt rope, making it perfectly ripe for stomping, chomping, and tugging!
Grrrande Vino
This glass of red wine dog toy is a 10 out of tannin. Grrrande Vino's squeaker, whip-n-flip stem, and full-bodied fluff will have your pup howling, "Salute!"
Big Babbo
This mustachioed eggplant dog toy is a real Casanova. Big Babbo is packing fluff, crazy crinkle, and a large machismo squeaker. Mama mia!
Ballscoti Cookies
These Italian cookie dog toys are a bouncy batch of fun. The Ballscoti Cookies are three squeaky tennis balls with no messy fluff—perfect for playing fetch and satisfying your pup's squeak tooth.
A Squeaky Meat-a-Ball
This Italian meatball dog toy may not be as good as Nonna's, but it is more durable! A Squeaky Meat-a-ball has two layers of play—determined chewers will find a beef-scented, squeaky rubber core to keep playtime rolling on the table, on the floor, or even out the door.
Vino Vidi Vici
This glass of wine dog toy will transport your pup to the vineyards of tussle-cany. Vino Vidi Vici is a rubber treat-dispensing toy with a wacky wobble base so your pup can snack away while they get a little tipsy.