35 adult yellow Labradors and 13 puppies were seized from horrific conditions at an Elmwood, Wisconsin property Friday, April 22.
In a breaking report from the American Society for the Prevention of Cruelty to Animals (ASPCA), they cite the suspected puppy mill bust as the third one already in April.
[bp_related_article]
When a worried citizen in the Elmwood area noticed the dogs' living conditions, she immediately notified police. Officers and rescuers were nothing short of stunned at what they saw—dogs and puppies "living indoors in small, filthy travel crates, with no access to food or water." Director of investigations for the ASPCA Kathryn Destreza says:
What we saw here is no way for a dog to live. The puppies at breeding facilities are sold for profit, but many people don't realize that their parents are often kept there for years, subjected to incessant breeding and usually lacking basic care and socialization, resulting in a very poor quality of life.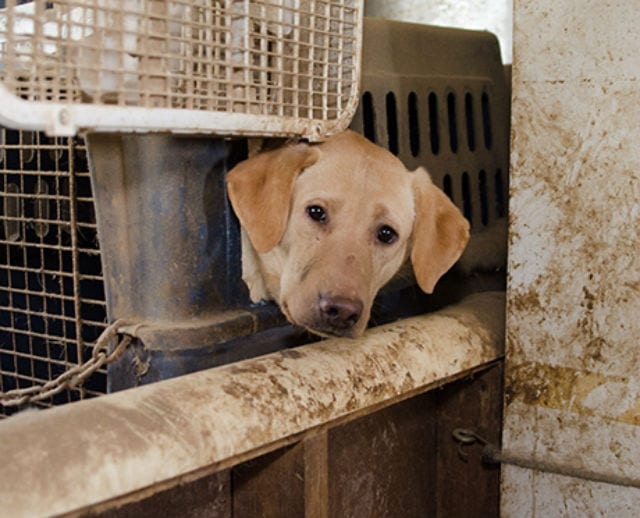 The Animal Humane Society in Golden Valley, Minnesota, which is now caring for the dogs, also aided in the rescue. The group "investigate[s] hundreds of reports of animal cruelty and neglect each year," according to President and CEO Janelle Dixon.
"As a result," she says, "we have the experience and ability to care for large numbers of animals, and the medical and behavioral expertise to provide the specialized care these vulnerable animals need."
All of the parents and puppies are now receiving urgent medical care and attention, and they will be considered evidence until a court determines custody. The facility's owner was booked into the Pierce County jail on allegations of mistreatment and failure to provide food and proper sheltering.
These pups are about to embark on an amazing new adventure in their lives thanks to Elmwood deputies, the ASPCA, and the Animal Humane Society—you can help by donating via the ASPCA website.
h/t + featured image via ASPCA