BarkPost and Loopies Toys have partnered up to spread the word on playing safe this summer. Loopies  can keep your dog's head above water – making for a healthier game of fetch. "Like" Loopies Facebook Page  for a chance to win a free toy for your pup and to fetch a code for 20% off your purchase!
Our office Retriever Missy is known for running around aimlessly. She seriously has more energy than she knows what to do with. That's why when we found a toy that actually got her to sit down, we pretty much freaked out.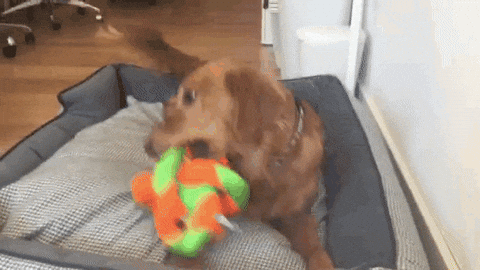 Loopies, is a pretzel-shaped toy with six loops and squeakers. The toy is easy to kick, throw, catch, and even floats – making it perfect for a game of fetch or tug-of-war. Originally designed for children, the toy has even won the Oppenheim Gold Award.
I personally love that it's light enough for me to throw in my bag and strong enough to withstand Levi's shark-like teeth.
It's also the PERFECT toy for dogs who love to swim. Loopies floats and keeps your dog's face above water – decreasing the risk of ear infections and water intake.
Levi will often run, play, and attempt to swim well past the point of exhaustion. While it's not a guaranteed life jacket, giving him a toy that will keep his head above the water is a major plus. The toy's bright colors also make it much easier for me to spot him in the water. It's super easy to find on the beach while attempting to clean up too (which I love because I usually end up leaving a toy or two behind that's been buried in the sand).
Aside from keeping your dog safer in the water, the toy's size, shape, and color make it easy for even the derpiest dog to win a game of fetch. 😉
Eager to give it a try? "Like" Loopies Facebook Page for a chance to win a free toy for your pup and to fetch a code for 20% off your purchase! To check out the entire collection of Loopies Toys sniff on over to Amazon.