Back in 2012, military working dog Lucca lost her front leg in a roadside bomb blast in Afghanistan. She was doing exactly what she was trained to do—sniff out explosives and protect her platoon—but it was always an extremely dangerous task.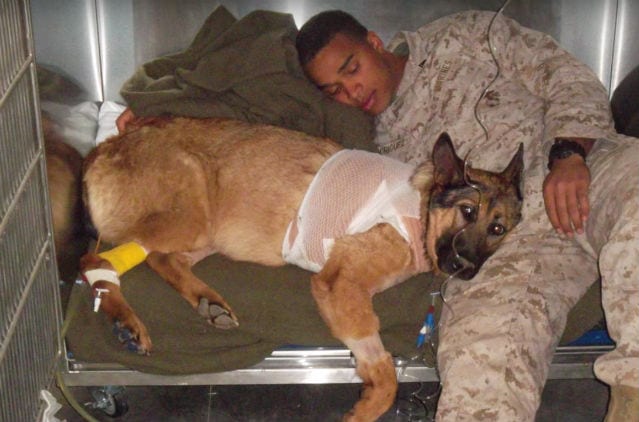 Lucca served for 8 years with the U.S. Marine Corps under the tutelage of two handlers, the second being Cpl. Juan Rodriguez during the time of the explosion. Looking back on the accident, he says:
The explosion was huge and I immediately feared the worst for Lucca. I ran to her and saw her struggling to get up. I picked her up and ran to the shelter of a nearby tree line; applied a tourniquet to her injured leg and called the medics to collect us. I stayed with her constantly throughout her operation and her recovery. She had saved my life on so many occasions—I had to make sure that I was there for her when she needed me.
Now 4 years later she is being recognized for her contribution. The People's Dispensary for Sick Animals' (PDSA) Dickin Medal is often termed the equivalent of the Victoria Cross. It recognizes "outstanding acts of bravery or devotion to duty displayed by animals" during war, and is the absolute highest honor for a military animal.
[bp_related_article]
There have been only 29 dogs to earn it before Lucca, and she is the first from the United States. The dog's first handler and now adoptive owner Gunnery Sergeant Christopher Willingham tells Sky News:
It is very humbling to be part of this entire process. I think more importantly is that Lucca's accomplishments are going to help bring awareness and recognition too [sic] all our military working dogs and their handlers.
He adds that he has a "tremendous amount of respect" for the numerous military canine handlers who preceded him, and that it has been a privilege the serve alongside them.
Lucca is getting on remarkably well with one less limb. She is retired at 12 years old, having completed two tours to Iraq and one to Afghanistan. During both, she led the way on over 400 patrols. Not one Marine was ever injured in her company, even after the explosion which cost Lucca her leg.
Lucca hasn't let her injuries stop her and she enjoys a happy and active retirement #PDSADickinMedalhttps://t.co/ruuvICt8Ua

— PDSA (@PDSA_HQ) April 5, 2016
Willingham says:
The best part is that she has the same personality that she had beforehand. For her to be exposed to an IED, to take the injury she suffered, and to still come back with the same personality really speaks to her resiliency, strength and character.
Congratulations, Lucca. You are a true hero.
h/t Sky News, featured image via PDSA