Mariesa and Chris Hughes are no strangers to loving the dogs others have forsaken. As the humans behind The Mr. Mo Project, they have been featured on BarkPost many times for their incredible commitment to rescuing the dogs humans have failed — those who have been abused, abandoned in old age, and forgotten.
So when little Iggy Pop came into their lives from Animal Care & Control in New York City, the entire Hughes family (including the seven rescue dogs who share a custom-made supersized bed every night with their humans) welcomed the teeny white dog with loving hearts and open arms.
Chris first introduced us to Iggy on July 1st in a Facebook live video. Wrapped in a white towel, 10-year-old Iggy sat with wide eyes and a flappy tongue while Chris mentioned how the stray was found. Visibly overwhelmed with emotion, Chris told viewers, "Oh man. Never any easier getting these dogs. You wonder how a dog ends up this way."
On July 2nd, Iggy's FB followers watched as he visited an emergency clinic. His belly was swollen and filled with fluid as a result of his Cushing's disease, and it appeared his stomach lining had thickened. His prostate was enlarged and contained fluid-filled cysts. Infection was suspected in his kidneys, but everything seemed treatable with time and medicine. Mariesa and Chris decided to keep him at the clinic overnight to be watched carefully, eager to bring him home once he could eat and drink on his own.
One of the symptoms of Cushing's disease is muscle weakness, and Iggy's trembling legs buckled under his weight. On July 3rd, aided by his mom's loving hands and his dad's encouraging kisses, Iggy took his first steps on cool grass. Though he wasn't able to come home from the clinic just yet, we watched Iggy perk up when offered his favorite treat: Vienna sausages.
Two days later, Iggy got his first family portrait with his seven furry siblings:
He spent the day surrounded by his family:
He got to have a special ice cream treat: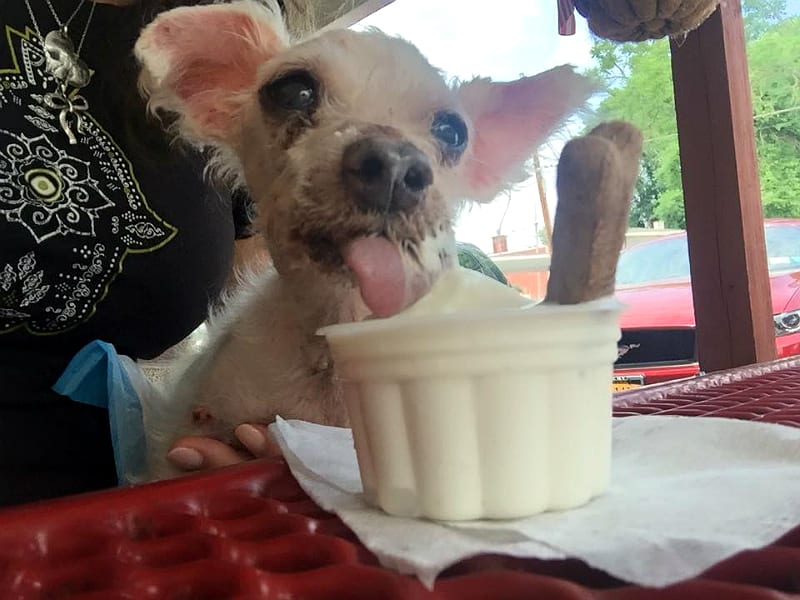 And he even got a new ride to cruise around in!
On July 6th, Iggy's humans posted a hopeful "So that's it folks! Iggy is gonna make it!!" The accompanying photo showed the immense transformation Iggy had undergone in just a week. With a warm bed to sleep in and a family who loved him, little Iggy Pop seemed like an entirely different pup.
A week later, Iggy's health worsened. Distraught with witnessing poor Iggy struggle needlessly with his health, his humans posted the following heart-rending message intended for the people who caused Iggy's suffering:
"To the person or persons that let this dog be sick, uncomfortable and uncared for for so long, my Mom has a message for you. Your lack of care, compassion and kindness is written all over MY dog. Your disrespect for life and your lack of love for MY dog is disgusting. You have ruined his life, you have failed him and someday you will be judged. Because you let him sit in his own urine, covered in matts, with his arthritic legs and as cataracts took his vision, because you let his pot belly, excessive water intake and urine output go untreated, because you couldn't even get him neutered to prevent the issues he is having now, because YOU failed him, WE will be the ones to lose him, all of you who love him will be the ones to mourn him."
One day later, Iggy was gone.
A commenter named Dawn R. shared this as a sweet reminder of the love Iggy surely felt surrounding him even in his last moments:
"All he knew when he passed was your love. Those dozen plus years of neglect weren't even a memory to him. All he had were your eyes looking at him with love, your arms holding him gently, your hands slipping him yummies, your voices reminding him how special he was."
A grief-stricken Mariesa shared this final message with all of Iggy's fans.
"I'm not sure why I feel compelled to write this, just that I feel so little since Iggy died I figure I should go with it. As many of you know, and feel, Iggy wasn't just another dog. He wasn't just a rescue we had for 11 days, he wasn't just a neglected, forgotten soul, he was our soul. He was our reason for being, he made [me] happier than I have been in months with one tail wag, one bite of food or one pill down the gullet.
Iggy filled the hole in our home and hearts, the hole in my womb, our family needed him more than he needed us and now he is gone. Carelessly, unfairly, our happiness is gone, forever, he's never coming back. He deserved to live so much more life, to eat so many more cheeseburgers, to meet so many more dogs, to sleep between us so many more nights.
For 11 days I knew myself again, I liked myself, I didn't worry about how dirty the house was or how much laundry was piling up I just enjoyed him, I enjoyed Chris with him, I watched him just be and my heart was full again. So yes Iggy is gone, we have lost him, and so much more.
This loss has left us reeling in guilt and regret, has left us questioning one another and everything we thought we knew, that is until we read your messages, your comments, your posts. Your understanding,and kind words are more than we get from people who know us personally. One of the hardest things to do when we lose a dog is to tell all of you because we know how devastated and hurt you will be and we want to protect you from it as much as we would like to protect ourselves.
So you have all told us how you feel and now I have done the same and I thank you for listening and for always being there and for loving Iggy as much as Chris and I do."
Intense anger. Disbelief. Overwhelming grief. These are some of the feelings that rescuers continuously experience while working to bring some relief to the animals who are abused at the hands of those with an inhumane disregard for the innocent. For most, Iggy's story may be one of a few stories you come across in your lifetime. For people like Mariesa and Chris, the consequences of the callous actions of a few are a constant living nightmare.
[bp_related_article]
The people who continue to sacrifice their time, money, and emotional health for these animals know their work will never end. Tomorrow will bring another case like Iggy's — another heartbreak, another blow to their faith in humanity. But they also know that animals like Iggy deserve better. For just 11 days, this dog had a home. Love. A family.
There are countless animals like Iggy out there, and not enough humans stepping up to undo the damage. Prayers and kind thoughts are always welcome, but actions heal faster. Adopt. Foster. Give your time to shelters and rescues.
Have some old blankets sitting in a closet? Drop them off at a shelter. Feel like getting some exercise? Download an app that turns your daily walks into donations to the organization of your choice. Share Iggy's story. Donate to the Mr. Mo Project. Buy a few things off of your favorite shelter's Amazon Wish List. Speak up against animal abuse.
Every little bit counts. For Iggy, that meant 11 days of hugs and Vienna sausages. For another dog, it may mean an entire lifetime of love.
Featured image via Gremlin/Facebook