At first, after the big dog was discovered wandering around alone, the Kirtland Police Department hoped to find his owner.
When that didn't pan out, they set to finding him a new family.
And now they are his family. "John Doe Dog" has been adopted by this Ohio city's police association.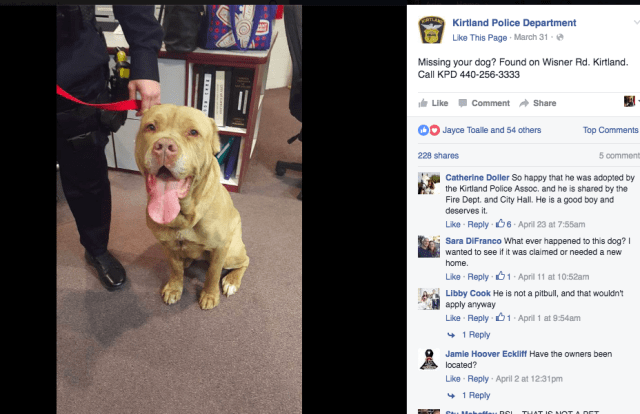 "The folks here at the Police Department wanted a good home for JD (this is now his name) so with the permission of the Chief and the Mayor JD has been adopted by the Kirtland Police Association but they also share the warmth this stoic animal has brought with City Hall and the Fire Department," reads the happy announcement on Facebook.
"JD has fit into the environment as though he were here always. We are happy to have him in our department and our lives. He loves everyone and we love him."
A representative from the police department, who asked to remain anonymous, tells
BarkPost 
that JD is not a trained police dog—he won't be making any drug busts, for example.
He's more of a police mascot, and companion, who "pretty much sleeps a lot."
JD lives at the station, which shares space with City Hall, and also hangs around the fire department quite a lot. He's got a bed, toys, food, treats, and loving companions around the clock. (His expenses are covered by the police association—taxpayers aren't footing JD's bills.)
Cops and others take turns walking JD, and playing with him, and taking him along to baseball games and other neighborhood gatherings in this city of about 7,000 people.
Folks from the community have also gotten involved—dropping off food, and even gift baskets for the dog. So much so, that JD has put on seven pounds in the last month (which is ok, since he was underweight—but like anyone with a desk job, he'll have to keep the snacking in check).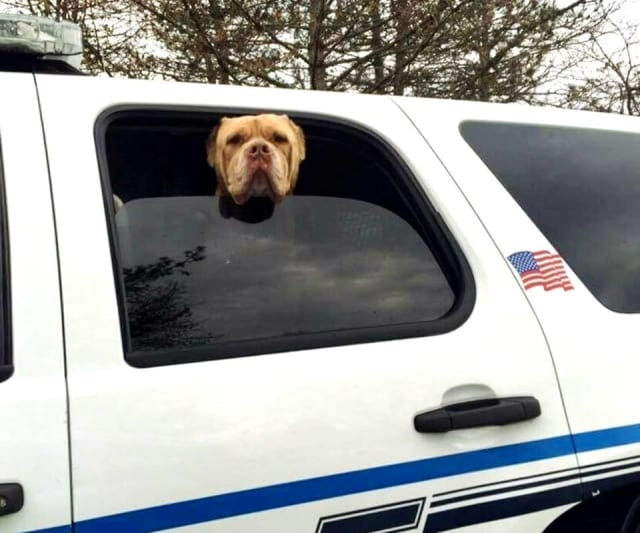 The police rep says that not only is JD having a great time, he's also brought joy and fun to the workplace as well.
"He's just been a real treat," she says. "The nicest, calmest, laziest dog."
If you think JD is cute, check out these adorable (but also intelligent!) police dog breeds.
H/T WKYC
Featured image via Kirtland Police Department