When you're down in the dumps, when all seems lost, when it seems like the path ahead is blurry and also has an odd smell, where do you turn? Your dog, I'd be willing to wager. In 1968, during a career low, that's exactly what The Who did.
Image via The Who
You know
The Who
, right? The equipment-smashing, "teenage wasteland"-screaming, rock-opera-writing freight train of a band? No? Ok, have you ever watched any
CSI
ever? Then you've heard a good chunk of their catalog. What you may not realize is that before they hit it big in America with rock opera-turned-film-turned-Broadway Musical
Tommy
and their appearance at Woodstock, the Who were pretty lost. By 1968, guitarist/songwriter Pete Townshend had been working on
Tommy
for a good year, while The Who had been on the coldest hit single streak of their careers. A year earlier, in 1967, Townshend had the band release what he assumed would be a surefire #1 in
"I Can See For Miles."
Alas, 'twas not to be. Remember the last time you didn't get that promotion? Remember the frustration? Remember the feeling that your sanity was slipping away? Well, you COULD have recorded a bunch of songs called "Dogs" because that's exactly what The Who did.
Image via Literarydogs.tumblr.com
First, a little background. As of 1968, three of the four members of The Who had beloved
dogs
. Townshend had a Spaniel mix named Towser, bassist John Entwistle owned an Irish Wolfhound named Jason, and drummer Keith Moon was a lover of multiple Great Danes.
Image via 4t5dogs
1968 was, by The Who's own admittance, a very strange time. Lead singer Roger Daltry referred to it as the band's
"wanking off period"
while Townshend declared it the time when "the band went slightly mad and put out
several records called Dogs
." Recordings from the time period reflect this. While the rest of popular music was writing about
street fighting men
,
revolution
, and
voodoo children
, The Who recorded scrapped tunes about
farming
,
religion
, and
a fat kid who took care of orphans after their parents died from smoking
. Their biggest hit that year was about a
magical vessel of public transportation.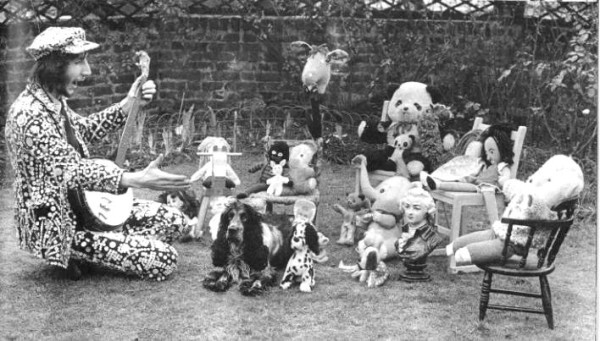 Image via i12bent.
Also released that year, was the song "Dogs," which may be the flat out weirdest track ever released as a single by a popular band! This was intended to be the "We Are Young (feat. Janelle Monae)" of 1968. Think about that for a minute. At its heart, the strange song centers around the joy of sharing love accompanied by canine companions. The verse lyrics are a love story that concludes with the singer and his romantic partner as a "happy couple" with "a greyhound [then baby] on either knee." Did I mention the chorus was a bunch of bawdy vocals chanting "there was nothing in my life bigger than beer?" Yeah, that happens. It's a weird tune, and though there are about 342 Who Greatest Hits compilations, you won't find "Dogs" on ONE. Good luck finding it on iTunes as well, though it has finally been recognized by the band as part of their upcoming
Who Hits 50
package. Then, we come to "Dogs, Pt.2" - the song in which The Who decided to collaborate on with their dogs. Don't believe me? Look at the writing credits...
Image via The Hypertext Who
By this point in the 60s, the Who had released a few instrumentals. There was
'The Ox"
(named after Entwistle) on their debut album and the madcap 
"Cobwebs and Strange"
  (seriously, listen to this one...) on their 2nd. Each of these tracks primarily featured a lead instrument of Keith Moon's drums, a formula which "Dogs, Pt.2" repeats, but with one very important added element - the vocals of Towser and Jason. Here's the thing though - "Dogs, Pt. 2" was released as the B-side of freakin'
"Pinball Wizard,"
one of the Who's most popular songs. That means, listeners in 1969 flipped over that catchy tune about the deaf, dumb, and blind kid who sure played a mean pinball only to hear a dog-led jam session. That's pretty great. And you know what? A LOT of people bought that single, meaning Towser and Jason were entitled to some MAD royalties! Anyway, 
Tommy
was a huge hit, and the Who had reached a level of success from which they would not retreat,
questionable Super Bowl Half Time shows aside
. Were their dogs responsible? It's hard to look at the timeline and not think that Towser, Jason, etc. at least were there for support during a very trying time for the band. In the end, I'm sure Townshend, Moon, and Entwistle were very glad that The Who let their dogs out. (Sorry.)