Villalobos Rescue Center (VRC) in New Orleans, Louisiana – the rescue behind the hit television show Pit Bulls & Parolees – held its last public tour on June 11, 2016. The rescue itself, along with its retail shop and bar, are still very much in operation.
On June 8th, a visitor confronted founder Tia Torres and Joe, a parolee, over a dog that was in the care of VRC that she claimed was hers. When asked when this woman's dog went missing, she responded about two years ago. At that point, Tia and Joe knew that the dog in question, Beatrice, wasn't this woman's as Beatrice is approximately eight–months old.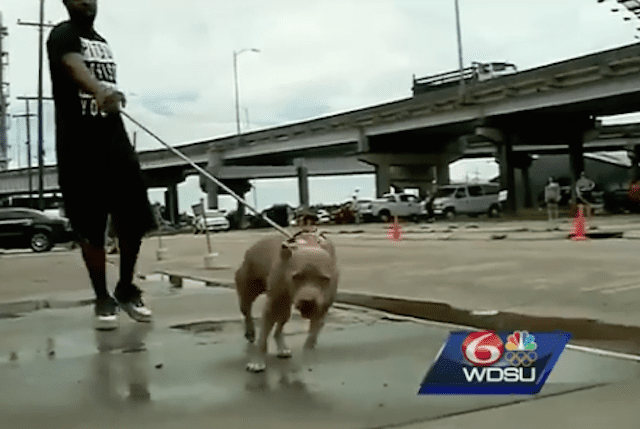 Tia tried to explain this to the woman but that's when the trouble began. Sharing on VRC's Facebook page, Tia wrote:
The more I kept trying to explain this, the more combative she became. So Joe (our parolee), Beatrice (the dog) and myself walked away to avoid any confrontation. The woman then yelled out, 'I'm going to 'f'n' (she said the entire word) kill this b*****!' I kept walking until …….I heard my other employees start screaming my name.
Tia's employees' cause for concern was very real as this woman had gotten in her minivan and was driving directly towards Tia, who is currently on crutches (unrelated to the incident in question).
Speaking to WDSU in an interview, Tia relayed the incident and the quick thinking of her staff.
She went around behind me and then came around behind me and I just kept backing up backwards to get away from her. All my employees started coming out and chasing her and yelling at her, trying to look for things to throw at her, taking pictures and it was enough to scare her off.
According to the interview, the woman was only about 20 feet away from Tia when one of her staff threw a coffee on the windshield of the minivan, causing her to swerve. Tia relays the incident more in-depth on VRC's Facebook page, and it's even more frightening than the news interview.
After one of Tia's employees threw the coffee, the woman "quickly re-gained control of her vehicle and caught up to [Tia] and began to circle [her] as [she] tried to get out of the way." Ultimately, it was Tia's staff taking photos of the woman's vehicle that saved Tia's life.
Due to this incident, VRC made the decision to no longer give public tours. According to Tia:
Yes I know…..this is insane. But more bothersome is that it has pushed past [the] simply being 'crazy' part [and] has now moved into being flat out dangerous for my family, my workers and the dogs. And because of all of these reasons, we will be halting all public tours to the facility.
Information and photos from this incident, including the woman's license plate, have been shared with the New Orleans Police Department.
[bp_related_article]
Tia has said that she has previously had people call VRC and threaten her because they think VRC has their dog but has never had a physical and potentially dangerous confrontation like this one.
As far as VRC possibly having a lost dog, Tia always has the same message.
I hope we do have your dog because we want our dogs to go back to their owners. We don't want to keep your dog!
VRC can be followed on Facebook. To help support VRC's mission of rescue and rehabilitation, you may donate here.
Featured image via WDSU & Villalobos Rescue Center/Facebook
For more, check out these articles!