Being a dog parent is amazing. And so is being an actual parent! If you have both kids and pups running around your house, you want to make sure your two-legged and four-legged children happily coexist at both times. And the best way to do that? Facilitating play between your dog and your children with the right dog toys.
Stocking your home with plenty of interactive toys will keep both your dog and your kids happy. But what toys do you need? What are the best games for your kids to play with your dog? And what are some dog toys for kids that are both safe and fun?
NOTE: As always, make sure to monitor play-time between your dog and child, especially if they're on the younger side!
You can't talk about dog toys for kids without talking about fetch. Fetch is not only a great way for your pup to work off energy, but it's also a great way to get your children outside and exercising—it's a win-win!
When it comes to Fetch Toys, you can go with a classic tennis ball (like the "Best Balls Ever") or something more novelty style (like the "Orbee Tuff Bulb"). As long as your child has something to throw and your dog has something to fetch, they'll have plenty to keep themselves occupied.
If your child is on the younger side, make sure they know not to grab the toy out of your pup's mouth while they're playing. Some dogs don't like things getting taken out of their mouth—and you don't want play time to turn into bite time!
Kids—especially younger kids—love stuffed animals. And so do dogs. So much, in fact, that it's not uncommon for your dog to steal your child's teddy bear and try to take it for their own!
Luckily, you can solve this problem by getting your dog their own Plush Toy. And if you want to make it fun for both your child and your pup, why not get them matching plushies? If your child is in love with their stuffed pig, get a plushie (like "Peg the Pig") for your dog to match. If your kid won't go anywhere without their stuffed unicorn, spread the magic and get your pup a plush unicorn of their own (like "Pete the Frankly Fantastic Unicorn").
As a parent, you always want to be engaging your children's minds—and puzzles are a great way to do it. Puzzles help your children become better problem solvers, think in new and different ways, and learn how to tackle challenges—all while having fun! Puzzles are an amazing toy for kids—and, as it turns out, they're great toys for dogs, too.
Thinker Toys (like "Treat Lock Treats") are like puzzles for dogs. Your dog has to figure out how to navigate the toy, solve the puzzle, and find their way to the delicious treat inside. Thinker toys are a win-win; they engage your dog's brain and their bellies!
Thinker toys are great dog toys for kids because your child can help your dog learn to navigate the puzzle—and when they're done, they can take all that problem solving power and apply it to their own puzzles.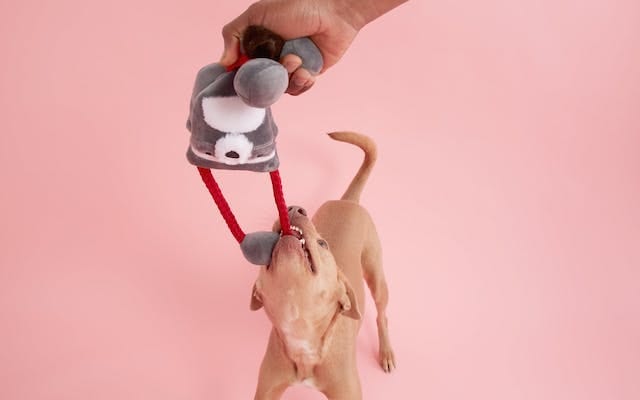 Kids love showing off their strength with a good, old-fashioned game of tug of war. And, coincidentally, so do dogs—which makes Tug Toys the perfect dog toys for kids.
Tug toys (like "Wary Beary" or "Skeptical Scott") are great because, similar to fetch, they help your dog work off excess energy—but because they there's no throwing, running, or chasing involved, it's a great toy to play with inside. Having a tug toy on hand is great for keeping your kids and dogs occupied on rainy days when fetch just isn't an option.
One thing that kids and dogs have in common? They tend to get bored easily. So if you want to keep your pups and your kids entertained, you need to keep them stocked with new toys. And the best way to do that? BarkBox.
With BarkBox, you'll get two brand new toys delivered to your door every month (along with two bags of all-natural treats and a high-quality chew). And with the constant stream of fun, new toys to play with, both your pup and your kids will have plenty to keep them occupied!
Sign up here and receive a free extra toy every month. <– This deal is worth up to $120 in value if you sign up for a 12-month subscription! 🙂
Looking For More Toy-Tastic Articles Like This?
Which Dog Toys Are Best?
What Are The Most Durable Dog Toys?
What Are The Best Puzzle Toys For Dogs Who Get Bored Easily?
What Are The Best Dog Toys For Labrador Retrievers?
What Are The Best Dog Toys For Puppies?